Just few minutes ago the social media is circulating news about brutal murder of 26 year old Bajrang dal activist named Harsha who protested against Hijab/burkha in Shivamogga district in Karnataka. The fact that he is a key activist shows it is not a random murder but a very well planned effort. Who should be held responsible for this brazen murder and other such incidents across the country in just last few days? We can say the culprits of this crime are most possibly from Islamic community in the area or perhaps PFI activists from the neighboring state of Kerala. The Police will do their investigation and possibly nab the culprits, a few years later courts will convict them or at worst acquit for lack of incriminating evidence and later they will be most likely released on bail (if convicted). This sequence repeats itself again and again as many lose their young men and parents left with little to cope with, most of them from very poor families. Many times the courts release on bail and they commit the crimes again. There is very little in the process about who instigated it, who funded and armed it, who facilitated it, most of all who sowed the divisions of hate. There is little recognition that these are not just ordinary crimes but acts designed to instigate terror, basically terrorist acts that need strong deterrence . Bharath institutional mechanisms, the constitution, the Government, the Judiciary , the compromised media have miserably failed and it is only going to get worse.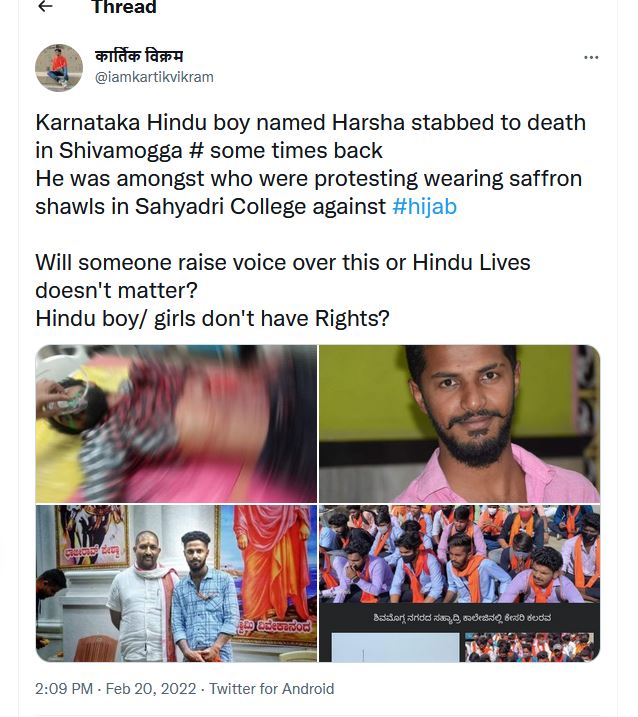 In the span of just a few weeks, in Gujarat on Jan 25th, a young man Kishan Bharwad was shot dead by two men Shabbir and Imtiaz supported by two Maulvis because he shared an image of Mohammad on social media. On Feb 6th Feb, 17 year old Rupesh Pandey was killed by a Muslim mob for participating in Saraswati Puja's Murti Visarjan by going through a procession on public streets. Now we hear about brutal murder of a 26 year old in Shivamogga district. Then there are regular brutal incidents in Kerala where we have become immune to the number of deaths and the brutality associated with it in a perpetual cycle of crime and retribution of the crime. Many of these incidents get little mainstream media attention. There is hardly any coverage on the regular riots in West Bengal or even in areas like Bhainsa in Telangana. Will the same media that repeatedly showed young men and women wearing shawls protesting the hijab, or the harassment of hijab wearing young woman by saffron donning youths show the brutal murder of the young man in Shimogga district ? Or will they show Muslim men wearing full cover hijab and protesting as women as seen in this video? Hindustan times repeatedly showed the harassment of young Muslim girl wearing hijab even while showing Prime Minister Narendra Modi comments on how Hijab row is only to put Muslim women progress behind. What role media and the politicians played in the brutal murder of this young man and many others?

Much before a physical crime is committed there is an intellectual crime that motivates it.

Just few days ago on Feb 18th in West Bengal, Popular Front of India (PFI) national secretary Mohamed Shakif called RSS a 'cancer' in a meeting that is attended by thousands of men, women and even babies where an MLA of ruling party TMC Manirul Islam shared the stage. Now if a young man in the audience motivated by these speeches commits a crime, perhaps murders a person he believes to be from RSS, who is causing the crime? Much before a physical crime is committed there is an intellectual crime that motivated it. But our system has little to address this. On what basis outfits like PFI continue to function in the country and spread such hate? When a Hindu outfit who were legitimately feeling threatened by repeated violence against the majority community allegedly made statements against minorities in Haridwar , there was uproar against it in Bharath from Hindu mainstream, a police case was registered and a group of lawyers filed a case in Supreme Court. But none of this is happening when PFI, which is basically a terror outfit like SIMI made such statements and provocating violence and continue to operate in Bharath. Who is to question TMC MLA Manirul Islam holding constitutional position endorsing such ranting by sharing stage with PFI type terror outfits? Why is he not disqualified so that no one holding a constitutional position endorses such views in the future?
Where are the lawyers when Owaisi recently said 'who will save you after Modi and Yogi' or when his brother said few years ago, 'give me 24 hours without police and 20 crores will decimate 100 crore Hindus' to the applause of thousands in the audience?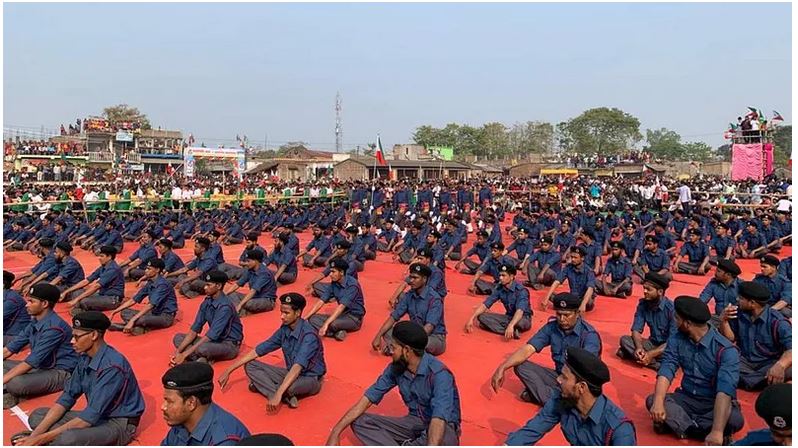 Where is the judiciary in creating a deterrence for hate crimes? What punishments are those who commit such heinous terror crimes are ultimately given? To this day no one knows what happened to those who cut the hands and legs of 42 year old Ramalingam in Tamilnadu right in front of his sons in Feb 2019 because he opposed conversions of Hindu dalits to Islam? There is hardly any coverage of this crime in the mainstream media even while they cover a similar incident of the Christian professor whose hand was cut off in Kerala by PFI activists as if the pain of the victim depends on his/her faith. What recourse is the constitution and laws providing for those who commit brutal hate crimes using medieval Shariah law? As Dr. Swamy once aptly quoted, those who use Shariah law should be meted Shariah justice but is our constitution amenable to make such changes? Why cannot Bharath categorize fatwa as death threats and heinous murders based on hate as acts of terror that needs to be punished with mandatory death sentence not just for those who committed, but most importantly those who sowed divisions of hate and those who funded it? What if this happens to the members of those in the ruling class, judiciary or the media? Just last year we saw, in the face of the politically motivated killings and rapes post Bengal elections, the Supreme Court's judges from the state recused themselves even while the same court had had no issue to initiate suo Moto action after Uttar Pradesh Lakhimpur violence.

Today security agencies in Western nations like the United States keep a close watch on Mosques, instituted laws so that hate crimes get multiple times the punishment of ordinary crimes of the same nature, and use mandatory sentences that courts cannot change. France declared an emergency for more than 2 years which they normalized into regular law, and arrests or deports the Islamic preachers for hate teachings. The Western elite are safeguarding their own even while at same time they are weaponizing radical Islamists in Bharat for their geopolitical goals using their own media and institutions combined with local media and political parties. Will Bharath learn from this? Is it ready to take on Uniform Education (i.,e no madrassa education), Uniform Civil Code and Judiciary and criminal justice reforms? What fate holds for Bharath democracy if West Bengal type political violence to terrorize and subjugate opposition is emulated in other states?

Bharath as a nation is facing enormous challenges today. As political system of corruption is cleaned, as Hindus assert their rightful place in the Bharath constitution and strive to bring all citizens under one constitution, the break India forces are more active and more virulent; they will try to put Bharath up in flames pitching one community against another to achieve their goals leading up to regime change in 2024. Is our constitution, our judiciary and political establishment ready to take this head on?

Please contribute to help the poor family of Harsha who are in extreme distress.

Regards,

Satya Dosapati