Muslim girl of 15 years can be taken away without Parental consent – Indian Judiciary is a threat to survival of this nation.  Is this Nari Shakthi?

PM Modi during recent 75th year independence day celebrations spoke about  'Nari Sakhthi' , honoring women in daily lives.   Just a few days later, a Delhi HC court says a 15 year old Muslim girl can be taken away without parental consent.  Parents say the culprit had even threatened the parents to kidnap their other daughter if any legal action was taken, but that does not matter.    The bizarre thing is the Police said in court that the girl went on her own.  When did the Police find that out, after the minor girl was taken away and brainwashed/threatened or before she was taken away?   So a child knows better than her parents?  What has this judgement set up?   We have now setup a perfectly lawful system where any Muslim man take away any minor Muslim girl even without parental consent and all he has to do is threaten the child to say that she left 'on her own' while she is under his custody.   
In another case, when a Muslim man raped, even broke two teeth and brutally killed a 4 year old Hindu girl and a POSCO law was applied the SC judges commuted the death sentence.  'Every sinner needs to have a future' said our Judges including current CJI Lalit.  When will victims or their surviving families in India get a future?   A petition filed by the mother of the 4 year old was summarily dismissed.   What if these perverted judges daughter or granddaughter went through the same situation?  Another Kerala court says, 'Courts cannot restrain a Muslim man from pronouncing Triple Talaq or to marry more than one woman'.  Karnataka HC refused to order azaan on loudspeakers saying it does not violate fundamental rights of other faiths while many countries including Saudi Arabia strictly limit it.    Our judiciary is not about ensuring the laws are followed but actually creating their own laws.   Even if there are laws, they do not seem to even matter.   They release criminals into the society but they want more protection for themselves which the Center has to give them for multiple years with taxpayers funds.   Are these judges afraid or are they compromised? Is the country so helpless that it cannot design a system using technology where Judges can be incognito while presiding over arguments and and not be tracked back to their judgements, if fear is the real cause?

The Judiciary says they are the body to do checks and balances on legislative and administration, but who is there to check on the judiciary?  In the name of protecting 'checks and balances' they removed any checks on the judiciary leading to the current disturbing situation.   Which country has judges only appointing judges and that too 5 judges and their appointees deciding the fate of 1.2 billion people across 28 states.  The  resultant system of 'Uncle Judges' where 40% of the HC judges' relatives practice in the same High courts do not even matter.    We have judges appointing their relatives, friends or those with their own ideology (some apparently card carrying communists), all coming from a few families.    They talk about the constitution, but which constitution they are following, no one has a clue.  Did the constitution say Judges can appoint judges with complete lack of accountability to the citizens?   They even mandate post retirement posts for themselves.   The just retired CJI Ramana was given free land and 50 crores by Telangana Government for  setting up of Hyderabad based, 'International Arbitration and Mediation Center' and many are asking to probe his 'illegal acts'.  While the Judge get a plum post retirement benefit, what are those who are providing them got in return as quid pro quo?  So, basically we have a system where the Judges will respond to the highest bidder!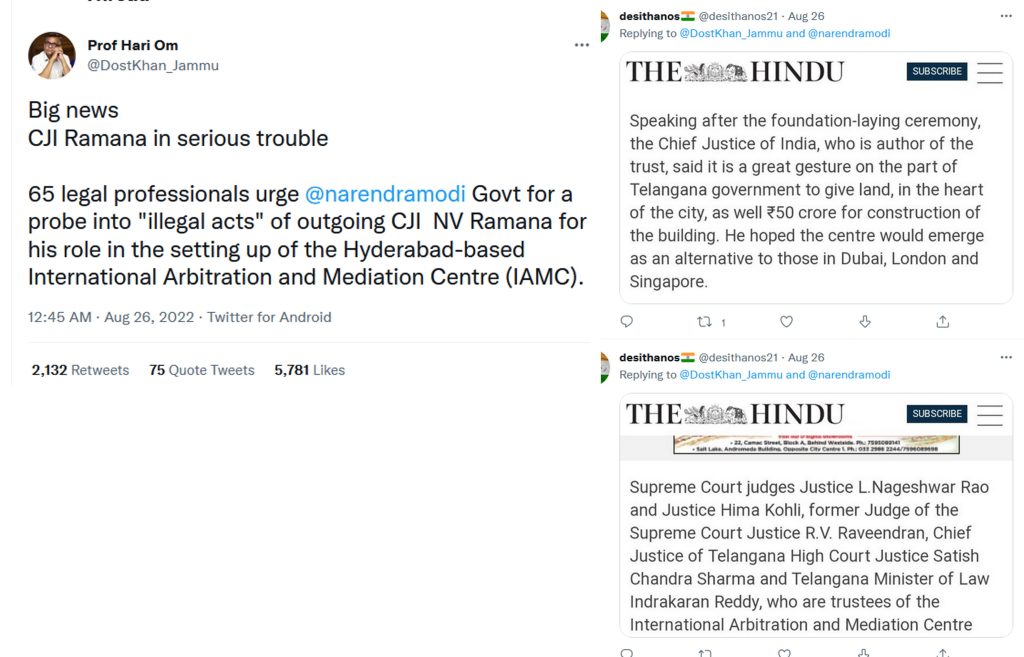 A cabal of lawyers, NGO's, self appointed judges funded by billions from geopolitical forces are whittling away this country's democracy creating a parallel system with complete lack of accountability to the population.   With 5 crore cases pending they have time to rule about the height of Dahi-Handi pyramid, take up hijab case or wake up in the middle of the night for hard core terrorists or protect illegal citizens.   The Teesta Setalvad case has for decades found its way to the same judge and hundreds of lawyers to fight for her but not one for 500,000 Kashmiri Hindus.    These judges want to tell the rest of the nation about what they need to do but would recuse themselves in the face of enormous post-poll West Bengal violence. 
We have so called 'eminent men' recently writing about bail given to rapists of Bilkis Bano in 2002 Gujarat riots calling it an 'insult to mankind', but where were these sick perverts when there are Kashmiri Hindu women raped and even cut alive and those who committed roaming free for last 30+ years, where are these perverts when so many rapes and murders were committed during West Bengal post poll violence but our judiciary recuses, where are they when so many thousands of minor girls are love jihad'ed and cut to pieces when they separate after discovering the truth, where are they when the mother of 4 year old girl who was raped and murdered asking for justice but was rejected, where are they when Nupur Sharma and her and family targeted for life for repeating the same as the most prominent Islamic scholars and that too in the face of grave provocation and the same SC delivered such biased and unfair judgements compared to how it treated Zubair who started it.   The recently published article based on GIA report on West Bengal post poll violence said that Mamata Banerjee call for 'Khela Hobe' resulted in such colossal violence where women suffered the most horrific terror and intimidation.  It said, 'women from marginal sections who were supporters of BJP (i.e., Hindu) were raped, stripped, beaten and violated in the most horrific ways while children witnessed extreme horrific violence and streets were sites of dehumanization of women of all ages'.  This was perpetrated by TMC Islamic goons in a pre-planned violence against Hindus akin to Direct Action day in 1946. 

This is while our judiciary debates an alleged hate speech by Yogi Adityanath in 2017 and not a single charge on Mamata!

  Does the pain and suffering of a victim depend on faith?   How did India end up with such gross self serving perverts?  Where is this going as demography changes?  Will these perverts who claims to stand up for a Muslim woman against Hindu men stand up for the the Muslim mother desperately  fighting for her 15 year old girl?  Well, there is no benefit from that because the person who kidnapped her daughter is not a Hindu, but a Muslim!!   Funded by foreign geopolitical forces we have a bigger enemy within the nation than our external enemies at the borders.

Our judiciary is a threat to the nation's progress.  We have had single judge commissions for decades so that they can live posh life with taxpayer money in a country where annual per capita income is just about $2000/-.    While the PM, legislators and citizens slog it out these people can work minimum hours per day and take long monthly vacations.  While every Government head has to report their foreign trips, Judges in India do not have to.   Which foreign bodies are they interacting with and who is controlling them with corruption no one has a clue?   They want to control the administration, legislature, even military but no one can question them.   Nay, they want to run the nation where a HC judge in a small state can stop the nation from moving forward.  They want to protect freedom of expression, even that of terrorists, but when citizens express issues against judiciary you can be arrested under 'contempt of court'.    They have what they call anti-majoritarian policy!  They even have their own version of fundamental rights, what they call 'core rights' which they use as an excuse for any judgement.  The process of unending adjournments is to compromise the system that only serves the rich and powerful.   The whole system of democracy  is turned upside down by a system dictated by a group of 5 judges and their appointees with zero accountability!!    Where is this all going?   Which country has this kind of system?  Name one.

The difference with the way SC treated Nupur Sharma and how it treated Mohammad Zubair whose doctored video created the violent riots, gruesome murders and was paid big time money for every single tweet shows the pathetic state of judiciary in the country.  The recklessness and arrogance is mind boggling and even criminal.  These judges are so arrogant that they ban Diwali crackers with little proof but not the enormous pollution and violence of Bakr-Eid, they want to regulate single temple Sabarimala entry to menstruating women  (with principle of Christian denomination judging a 10,000 year old civilization) but not a single Mosque in the whole country that would not allow a single Muslim woman to enter,  they would not address who is a minority with 20% population considered a minority but when the Government wants to declare Hindus minority in some states they reserve judgement.  They have no solution for Islamic mob violence that is causing great damage to the nation and its progress but will put blocks in administration efforts to firmly deal with it. Even to extend the width of a bridge so that the military can pass the military equipment required to counter Chinese build up at the border, a PIL of an organization holds more water against the security of the nation.  While much of South India is literally invaded by Christian missionaries funded by billions pouring into India they would threaten the petitioner appealing to take action.   In Tamilnadu (and Andhra), missionaries are making plans to completely wipe out Hindu civilization and are deliberately demolishing ancient hundred year old temples which even British colonizers have not attempted to but that is not an issue.  
Our judiciary know so much about the West but know nothing about the 10,000 year old civilization which the most accomplished, intellectual and philosophical thinkers in the West from Steve Jobs, Oppenheimer, Carl Sagan, Joseph Campbell, Will Durant, Mike Singer, Eckhart Tolle, the many quantum physicists and many across the world who hold enormous reverence to this great culture.   West is studying concepts of Gita, Yoga, Ayurveda, Tantra, Chakras, Upanishads,  the German universities cannot keep up with demand for Sanskrit, European CERN institute with most accomplished scientists boast of grand statue of Nataraja representing the cosmic dance, but our corrupt Judiciary are filled with self hate, low self esteem, pandering to the Western geopolitical break India forces and their local establishment through a system of PIL's, NGOs, lawyers, political parties and media that are bent on destroying this nation and its culture.  In fact, our judiciary has become their powerful ally in their designs to use radical Islam as a powerful tool to keep India down, to control, convert and contain India.

The country urgently needs a massive civil disobedience movement against a judiciary that is completely unaccountable to the people.  Country desperately need freedom from this highly corrupt and compromised institution if it is going to move forward as a nation and have any hope to reach its potential.  While China and other ASEAN nations, including BanglaDesh are progressing economically, we are stuck with this grossly sick institution that ex-CJI Ranjan Gogoi himself said there is no possibility of attaining the 5 trillion dollar goal with the current setup.   Until we clean this, we are back to colonialism and its plunder, just the white is substituted by brown. We may very well end up catching up with Pakistan or Afghanistan instead of China!