https://www.pgurus.com/will-farm-laws-agitation-go-the-way-of-delhi-riots
Will Farm laws agitation go the way of Delhi Riots?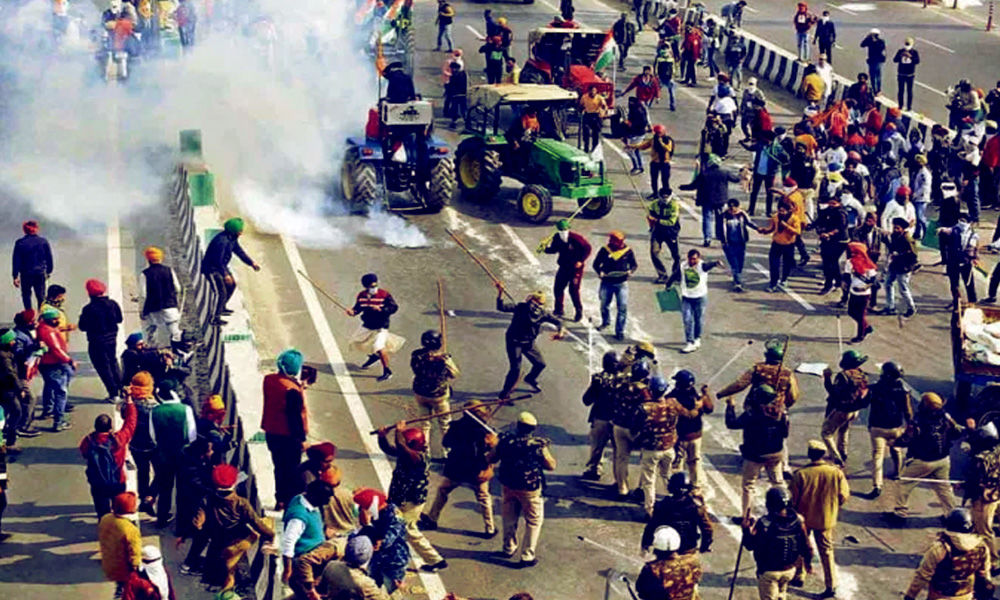 Image: OpIndia.com
Read the social media posts, even those who are strong supporters of Narendra Modi express deep frustration on how every single act of significance by the Government is allowed to be blocked by few anti-nationals and the Government does not seem to have a strategy to handle them with firm response.   In private conversations, nationalist leaders and those who had nothing but adoration of Narendra Modi and his love, deep passion for the country lament about this.   What is the Government afraid of, said one nationalist leader in a private conversation.  Why were the anti-national forces allowed to group after the Republic Day violence and the public was horrified and disgusted?  How can Government standby when public highways are occupied at the cost of convenience to many citizens and loss of revenue?    Anti-nationals like Yogendra Yadav, Rajdeep Sardesai and break India forces are sitting like hyenas to bring down Modi ji and weaken BJP Government.   These people are looking for every opportunity while the Modi Government is pursuing the so-called  'Gandhian way' in addressing them.  The moment the BJP Government is weakened, they will pounce and attempt to completely obliterate and destroy, wrote one post.  Bollywood icon Kangana tweeted, in spite of the National Government elected by an overwhelming majority,  just a few anti-nationals are forcing CAA to be not implemented and the Farm laws fast going that way.   Will the Government be able to pass the bills on Gender equality for Muslim women (Uniform civil code),  release Hindu Temples and stop the enormous conversions activity going on especially in the South India that will eventually lead to breaking of India.   Our handling of Shaheen Bagh created more Shaheen Bagh type agitations.
How is India handling external forces?  While it is increasingly clear China, Khalistanis and perhaps Global elite forces are behind the riots, India can learn from China in how it recently responded to Biden Secretary of State Mr. Blinken on his comments about Hong Kong even though Chinese actions are patently unjust and downright brutal.  How did France handle Yellow Vest agitation and Islamic terrorism or US handle follow up actions to Capitol hill break in with literally massive troops stationed in DC?   When  President Reagan took office in the US in 1981, few federal air controllers brought the country to halt by blocking all air travel.  Reagan did not sit on it, he found a loophole in the agitation and fired every single air controller (11,359 of them) who did not report to the job.  Never did America see federal employees pursue such opportunistic agitation again since that time during the last 40 years!  While Reagan predecessor Jimmy Carter sat on the Iran hostage crisis for 444 days, Reagan sent a message to Iran before he was even sworn as President, either get bombed to total destruction or release the hostages and Iran released all hostages on the very day he took oath as a President!    Israel is believed to have an army of IT personnel countering the propaganda in the social media and other avenues but countering the propaganda of India's just laws are left to the defence of few activists.
Will India follow through with the twitter who thinks they are above the Government and the laws of the country they operate in?   Every other day we see twitter like apps coming into prominence and what is stopping India to create and promote its own apps like China did.  India needs to show boldness and leadership in banning twitter from India completely and it will surely be followed by many other countries which see enormous dangers of these Tech Giants and their partnership with Global elite in placing  'puppet' leaders across many countries.    India needs to be prepared to send a message to Western media either they play by journalistic ethics or taken to task  if they are spreading outright lies and fomenting unrest.
Let us reflect that but for the firm action of PV Narasimha Rao, Punjab would be still simmering with terrorism for decades or worse.  'Gandhian way' makes sense and practical when you are faced with an overwhelming force and your position is weak.   When you are in a position of strength, when your laws are just and for the greater good and  if that is held to ransom literally by only a handful anti-nationals, it is adharmic not to act with a firm hand.  Every 10 steps India attempts to make progress, these anti-nationals will pull it back by 9 steps.  We can  learn from Krishna – after every possible peaceful and negotiation attempt fails, use a firm hand to handle the unjust.   Sitting on things and waiting for disaster to break it is not the way we can make progress.
India needs to understand the agenda of the deceptive Global elite and its work with partners in India.  It may showers praises and even facilitate awards to the Modi Government while simultaneously working with its Indian counterparts to destroy the conservative Government in India completely.     India has twin challenges.  On one hand is the naked aggression of China which it is responding to, but it cannot ignore equally (or more) dangerous insidious threats of the Global elite with their agenda of Global domination.
Satya Dosapati
References:
1) "Delhi Riots and its urgent lessons of Global Designs of India"
2) Social Media censorship in US a major warning to India
3) Global Domination agenda (90 million views in 27 languages)