A recent circular dated July 4th 2019 from Andhra Pradesh Revenue department (reproduced below) was seeking to take (10,000 acres) of Temple and Choultries lands on war footing to provide for Government schemes to allot homes.   Given that temples are under the Government control, it is matter of time the temples lands that are worth many thousands of crores and were given for perpetuity to maintain Hindu temples are grabbed for pittance.   Note that the circular does not mention anything about Church or Mosque lands, but only Hindu temple lands, while Catholic Church alone is the biggest non-agricultural land owner in the country.     Related news articles (in Telugu) are also published below which shared more details that Revenue department was seeking to take 10,000 acres of temple lands from Endowments Department and questioning who gave right to Government to sell off temple lands when they are only a trustee to them and there is already a court order against selling temple lands.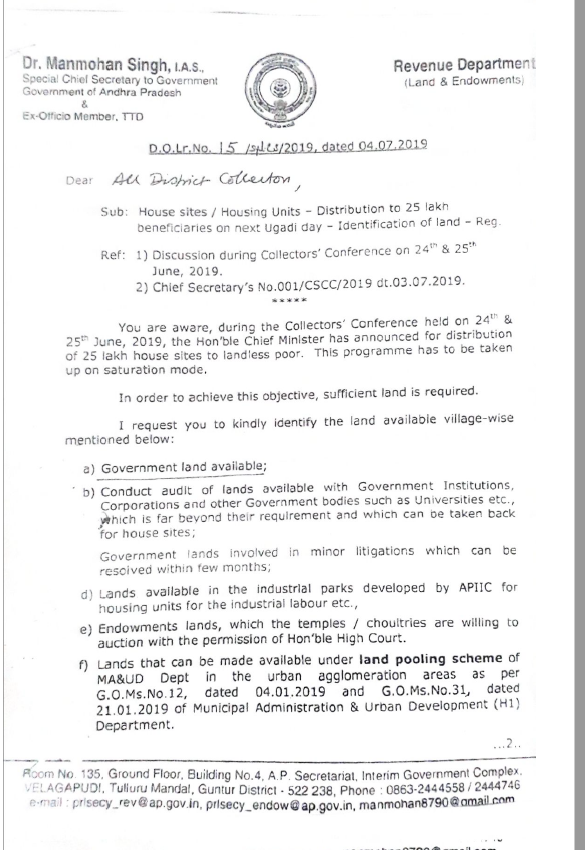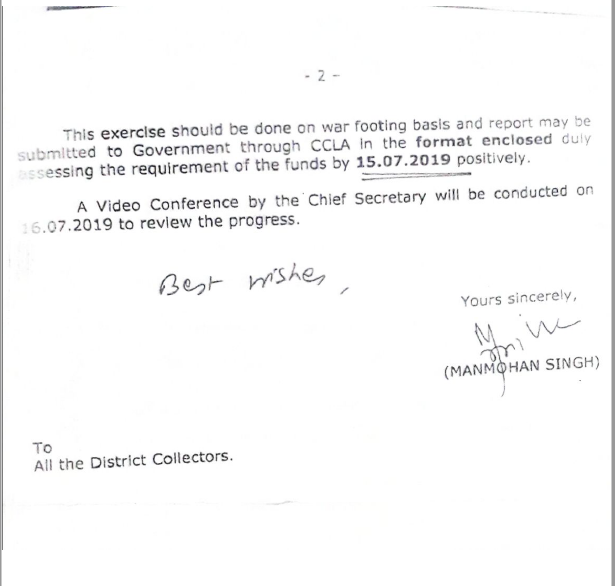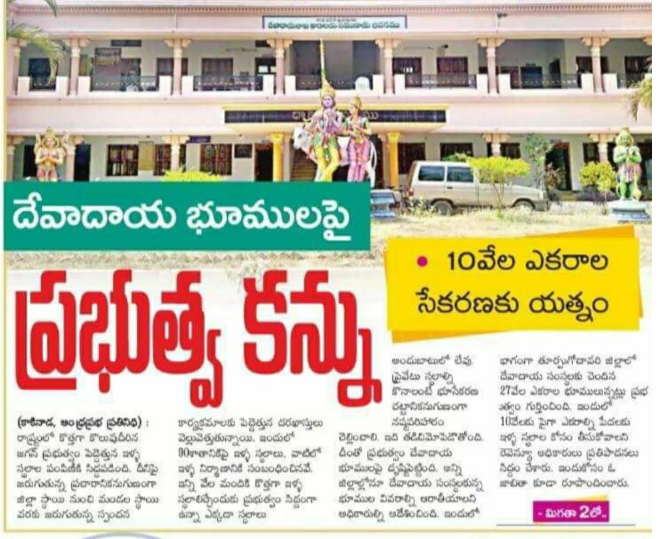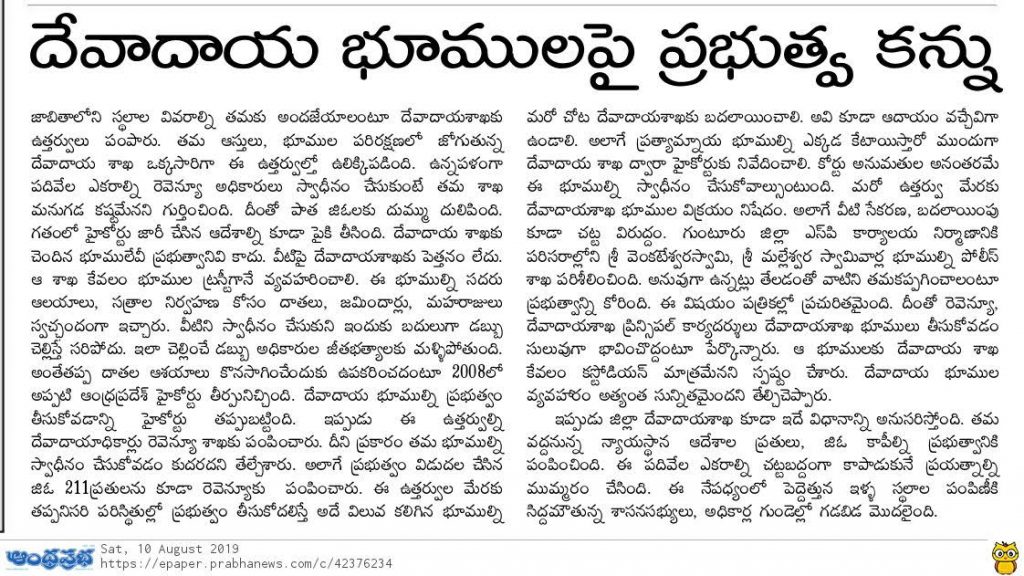 Here are various things to note:
a) Church is biggest landowner in the country.   Just Catholic church alone is reported as biggest non-agricultural land owner in India. (see this 
link
)
b)  Most of the poor SC/ST are 90% converts, mostly converted during Jagan's fathers YSR regime.
c)  During Jagan's father YSR regime, thousands of acres of land was given away to cronies, to churches and looted where Hindu temple lands worth crores was disposed of for pittance.
d) Jagan promised a home for every pastor and marry the girls of pastors.   Just West Godavari district alone is supposed to have 11,000 pastors.  So funds provided by Hindu devotees will be paid to Christian pastors and Christian converts for their homes and families.
e) While Churches get enormous amounts from NGO's (in spite of Central Government measures) thousands of crores of Hindu temples, particularly TTD has no accountability since 1999.  With state constrained for funds, what this amounts to is funds provided by Hindu devotees will be used for building homes for Pastors and largely converted populations.
f) After much uproar, Endowments department came out with dubious clarification that only unused and waste temple lands will be taken away.   Who will assign something as, 'unused and waste' temple lands.   Endowment authorities or appointed officials of the Government?  How can a land become wasteland unless it was neglected or misused?  This circular did not even mention the High court order against any sale of any Hindu temple lands.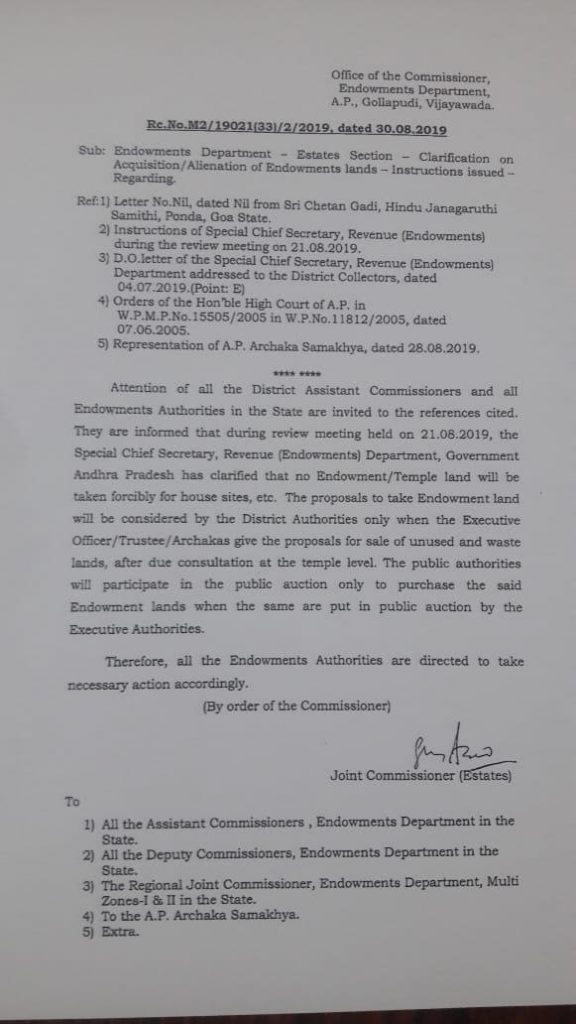 Then there are other troubling signs which are being noted below and covered by other articles.
1)  Monthly payment of  Rs 5,000/-  to Pastors and Imams.   Considering there are nearly 10,000 pastors in each of 13 districts in the state, this amounts to 780 crores of funds per year just for Pastors alone.   Even if there are half or even one fourth of the Imams, this is nearly 1000 crores of State funds per year.   Now consider (i) Government is starved for funds (ii)  it does not take any funds from Church or Mosques and (iii) there is no accountability of Hindu temple funds, particularly TTD.   What this amounts to is Hindu devotees paying salaries of Pastors and Imams!!  (There is a rumor that a temple planned to build in Amaravathi with TTD funds was curtailed from 130 crores to 30 crores, perhaps that will go for these salaries!!).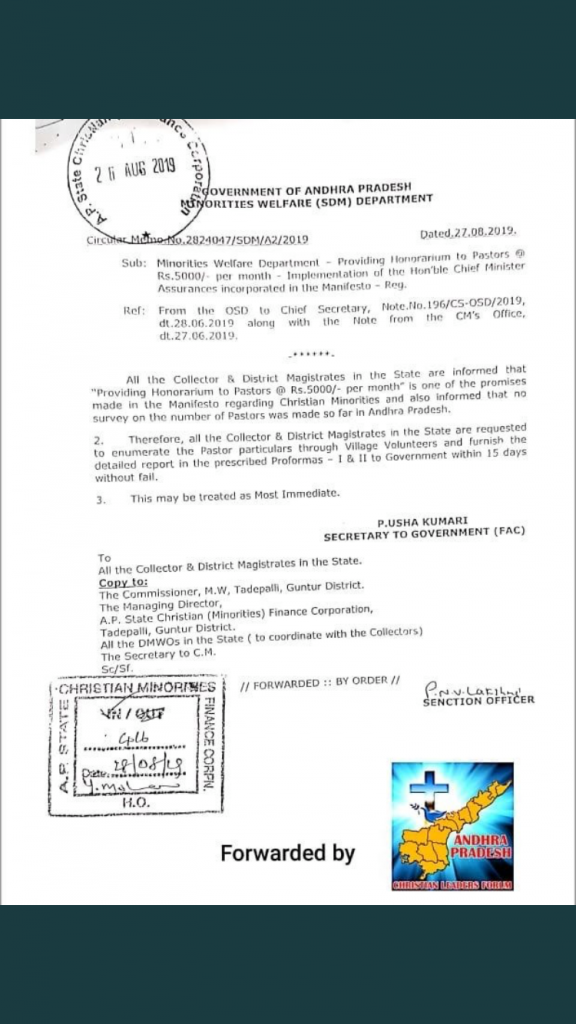 2) Vizag Police commissioner of Police asking to protect only Chruches and Mosques and no mention of Hindu temples (circular No:52/CP VSP/GEN/2019 )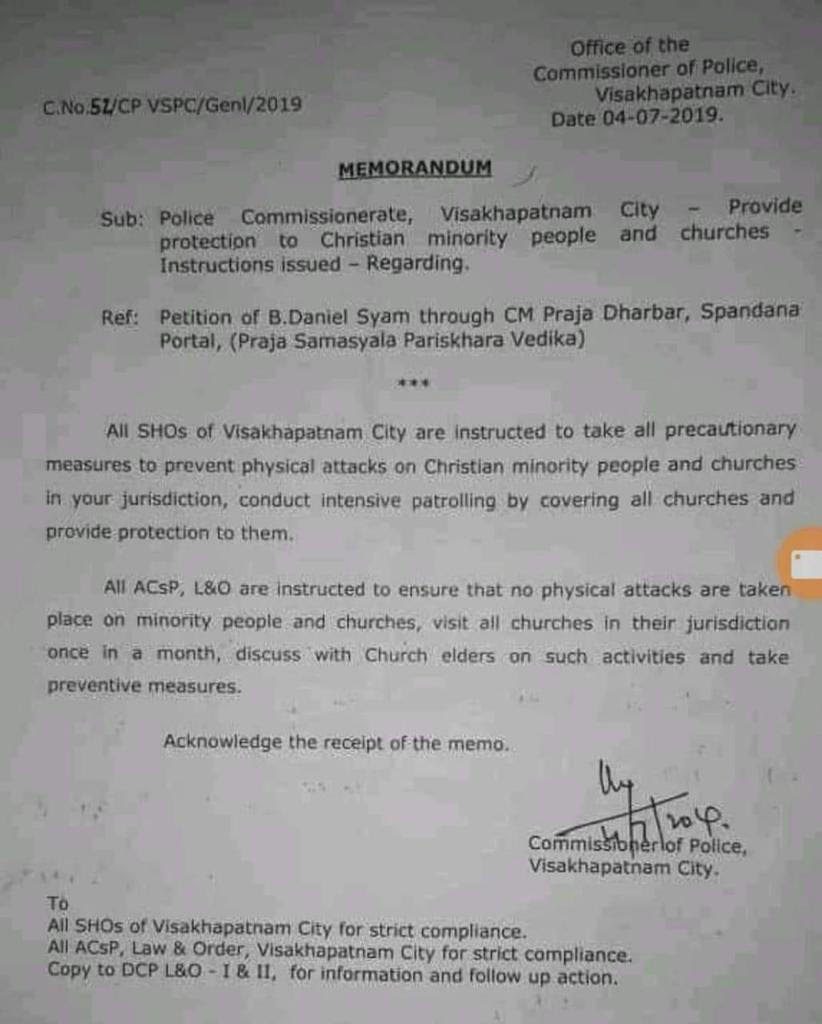 3)
A threat was issued by Andhra based Pastor to US based Global Hindu Heritage Foundation if the highly popular website highlighting Hindu temples and heritage concerns https://SaveTemples.org is not brought down.
  He also threatened to kill the Organizing members and that he has weapons and volunteers who are ready to kill.  He is so confident of having immunity under Jagan administration, he  provided his website, phone number and other details (his whereabouts have been verified and FIR has been filed with both Andhra police and report filed with US Consulate).  See this 
link
.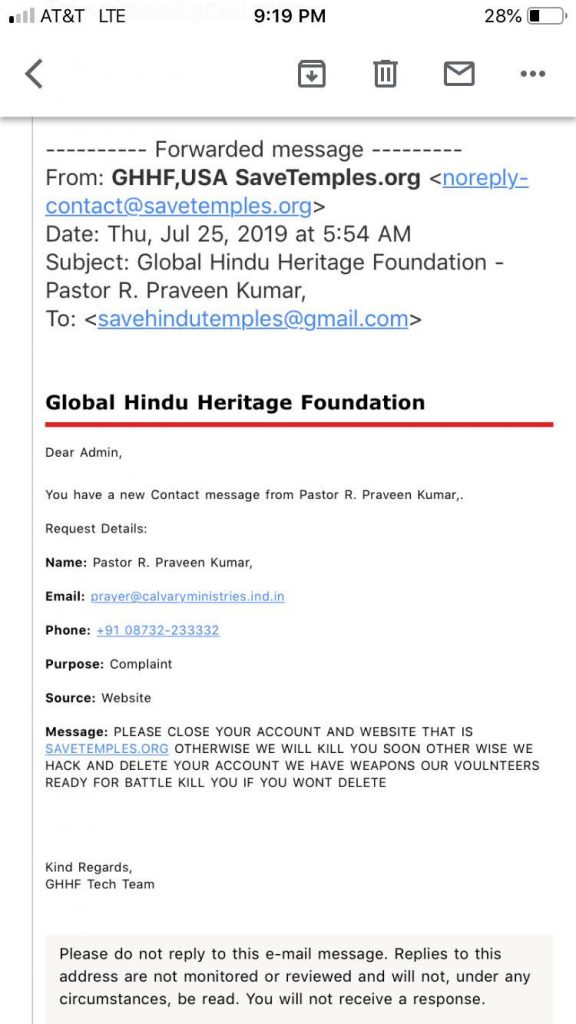 4) Many areas of Andhra, the aggression of the pastors have increased from building churches on Government lands and threatening peaceful villages.
a) Here is a village of about 1500 near Bapatla with 100% Hindus, a person approached the villagers that he will build a mineral water plan and provide fresh water.  Innocent villagers even provided land with reduced cost.   Later they came to know he is building a church and the villagers warned him and got signatures on stamp paper.  But by 2014 he build the church.   Then hell started for the villagers.   The pastor started getting people from outer villages on autos for prayers and blaring sound disturbing children studies.   Slowly he converted 5 families and he is setting those 5 families against rest of the villagers.   The villagers reported to Police station and there is a lady police officer who is a Christian.  While no action is taken against the pastor, the pastor filed a case against villagers that the villagers are threatening to kill him, not providing assistance to those who visit his church.   This church has no permits, does not even have a door number.   Here are villages holding dharma at local Government office.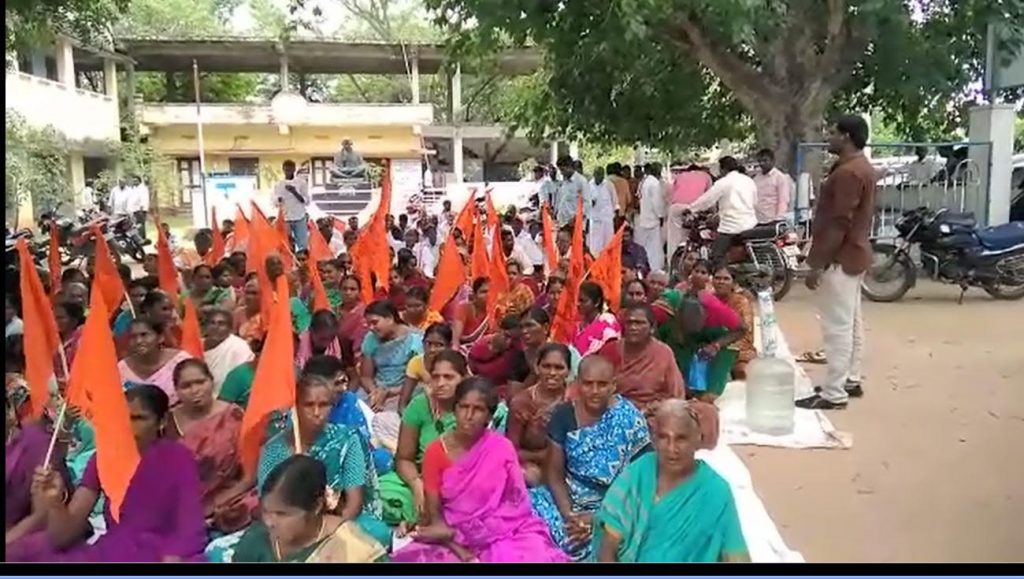 b) Aggressive pastors building churches on Government public lands with little accountability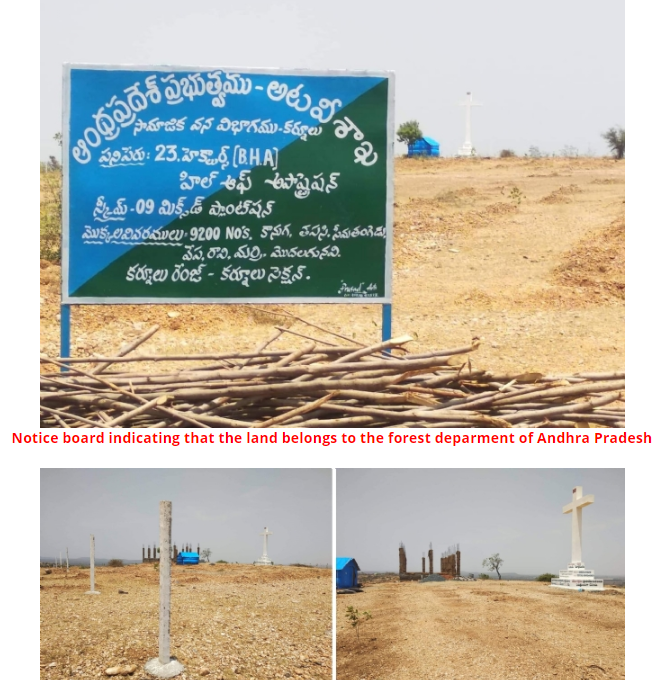 First came the Cross and then the church on Andhra forest land!!
5) Police Bias:   A member of Shiv Shakthi Organization that is working to expose illegal activities of missionaries and conversions was arrested in Kurnool area for sending a WhatsApp message(s) on some illegal activity of pastors and missionaries and he was arrested by Police and police did not respond to many calls.   When a state BJP leader questioned the practice of giving stalls near temple that sells goods for Hindu worship to Muslims, he was promptly arrested.
6) Jagan family are Christian fundamentalists:  There are video statements on social media from Jagan, his wife, his mother and sister asserting their Christianity, his sister even challenging Jagan's detractors and his wife on how Christ helped her family, indirectly encouraging conversions.   All the women wear Hindu Bindi on their foreheads that fools Hindus about their faith.
7) There are troubling signs that Jagan is filling his administration with Christians.  Stephen Ravindra, Head of Intelligence appointed by Jagan is a Catholic Christian from Hyderabad belongs to active evangelical groups.  As an IPS officer, he acts like a backbone to Christian missionaries and groups by lending his police power.   
Stephen acts as a head of Gideons International, a US based evangelical group
.   An example, in January 2017 a Christian missionary named Pastor Swami was caught red-handed by locals who was abusing Hindu Gods and distributing Christian literature to devotees of a Hindu temple in tank bund area.   Police were called and the missionary was taken to local police station for questioning.  Within no time, the local police got a call from Stephen and the missionary was released and no case registered (taken from a response from George Redy an Expert on Indian political analysis on Quora,  
https://www.quora.com/Did-Jagan-start-Christianizing-the-AP-government
.
8) Little children in Government schools are asked to carry bibles and some of the missionary educational institutions impose hefty fines for simple practice of wearing a Bindi by a girl.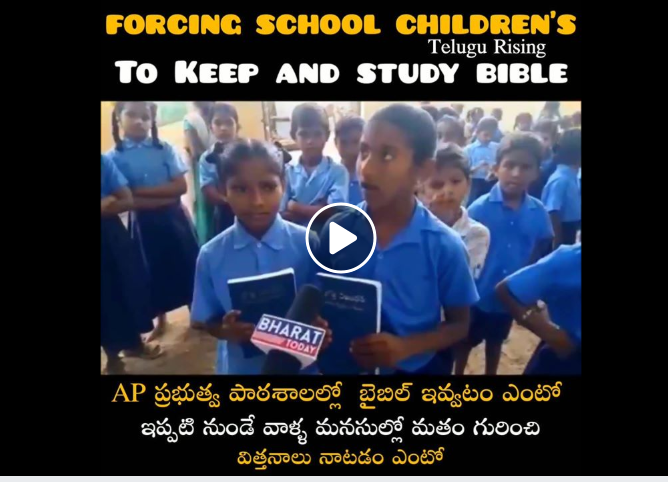 9) Appointment of SC/STs to temple boards.  With 90% of SC/STs converted in many areas, this amounts to Christians are going to control Hindu Temples under Government control.
In the backdrop of this, it is unfortunate that naive and foolish  NRI hindus are honoring Jagan without any preparedness to question Jagan's practices.   One of the Organizers told me that Jagan will be invited with Kalasham and Hindu traditional way.  While not all, many of the Organizers have strong affiliations of region and caste and would not even want to hear.   Any news about Jagan is labeled as some TDP activity spreading false propaganda about Jagan. 
Unfortunately, both the NRI Hindus as well as Hindu spiritual leaders in India are living in trance about Jagan being almost a half Hindu convert.  They are not realizing that Jagan is mostly following his father, who used to practice every Hindu worship while converting of 90% of SC/ST Hindus to Christianity.  While on the same day he and his wife (Jagan's mother) did Rama Navami puja with all devotion, YSR removed Rama Navami from State Government list of holidays.  YSR attempted to take over 5 out of 7 Tirumala hills and give to tourism (i.,e missionaries) something which even British attempted during their 200 year rule.
It is time Hindus across the world wake up before Andhra becomes one another like North Eastern states and make Jagan answerable to the practices.   In all likelihood he is like his father fooling Hindus or a pawn of Christian Pastors and Church to remain in power.
References:
Open Letter to Jagan, administer state for all Andhra People
Andhra – Another Temple Land Grab in the making
The Scourge of Casteism in Andhra – Reddy and Kamma Politics
Regards,
Satya