——– Forwarded message ———-
From: Narayana Sd <narayanasd123@gmail.com>
Date: Sun, Jul 26, 2015 at 3:42 AM
Subject: Press Release: Activists appalled by untruths spread by Rajya Sabha member Mr. Derek O' Brien
To: Satya <narayanasd123@gmail.com>
Cc: Partha Chatterjee <pcbehala@gmail.com>, connect@derek.in, cp@kolkatapolice.gov.in, chiefsec@wb.gov.in, dirati@vsnl.net, sechome@wb.gov.in, seclaw@writerscal.gov.in, secjudicial@wb.gov.in, secwcdsw@wb.gov.in
For Immediate Release
Contact:
Org:          Save West Bengal Daughters
Email:        SaveWestBengalDaughters@gmail.com,
Twitter:     #SaveWestBengalDaughters, #SaveTuktuki4mGazi
Facebook:  Save West Bengal Daughters
Activists appalled by untruths spread by Rajya Sabha member Mr. Derek O'Brien against those standing for human rights of victims in West Bengal
New York: July 26, 2015:   The human rights activists working for the rights of the victims in West Bengal are appalled at the statements made by Mr. Derek O'Brien as reported in the Times of India article below.
It is disappointing that Mr. Derek O'Brien makes untruthful statements regarding the phone call he received from an activist on July 9th.   A parliament member is expected to maintain decorum and be a person of integrity.
The phone call was very formal in nature and throughout the duration of the call, there were pleas for his support to help the girls in distress, particularly Tuktuki Mondal. Mr. O'Brien was very reticent and did not express any support. The call lasted less than three minutes.
Two weeks after the call and after the success of the activism that resulted in the release of the minor girl, Mr. O'Brien not only insulted the idea of minor girls being kidnapped, but  in hindsight  has decided that he can abuse his power and falsely characterize the call that took place two weeks ago as a threat against him!
We are believers in the legal system as can be seen from our press releases. Even in the emails, the strongest sentence calls for the court to mete out the punishment to Mamata Banerjee clearly underscoring this point.
It is wrong for a parliamentarian to abuse his power in this manner and make untruthful claims against those who do not agree with his politics. What is truly disturbing is that Mr. O'Brien seems to have something against Hindus and we hope his own religious upbringing is not the reason for his prejudiced outlook.
Instead of showing sympathy for the kidnapped girl, Mr. O'Brien has gleefully declared in a tweet (see below) that the girl returned of her own accord as though the whole issue was a debate to be won on twitter. He has completely ignored the fact that the girl is a minor and that enticing a minor girl to go with him is kidnapping too. Perhaps he does not believe in such laws and he believes in different kind of morals when it comes to minor girls.
We urge Mr. O'Brien to give up his biased worldview and join us in our effort to prevent the kidnapping of young girls and make West Bengal a better state.
​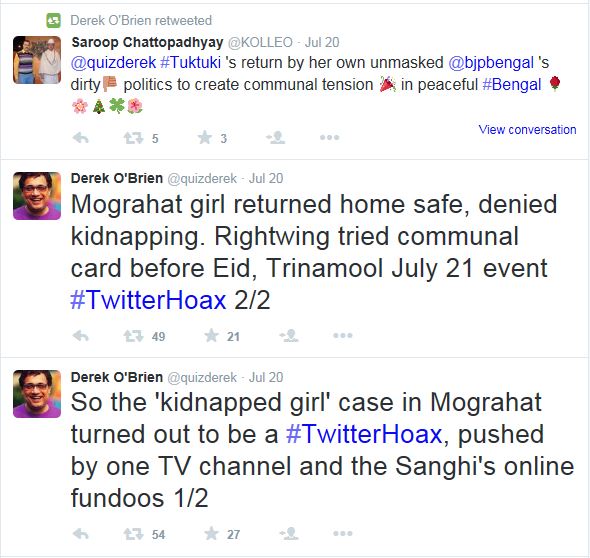 #########
​

http://timesofindia.indiatimes.com/city/kolkata/TMC-gets-hate-mails-threat-calls-on-Mamata-trip-eve/articleshow/48220328.cms
Mamata Banerjee|hate mails
The CM, along with her 66-member entourage of ministers and bureaucrats, is scheduled to leave on Sunday for a 4 day trip of the UK. (TOI file photo)
RELATED
KOLKATA: A day before Mamata Banerjee leaves for London to woo investors, Trinamool Congress has revealed that its leaders have received numerous emails and phone calls — purportedly from Hindu radical groups based in Britain — threatening the chief minister to call off her UK trip and asking British industrialists not to invest in Bengal.
READ ALSO: Mamata Banerjee has a sensible approach while inviting UK investmens, says Sanjiv Goenka
Derek O'Brien, the party's national spokesperson and leader of the opposition in Rajya Sabha, who received 10 such emails in the past 24 hours, has filed a police complaint and urged police commissioner Surajit Kar Purkayashta to hold a thorough probe. The matter has also been referred to the Indian High Commission in London. The London Metropolitan Police is also expected to be apprised of the development. It is learnt that party general secretary and MP, Subrata Bakshi, has also received threat calls.
READ ALSO: Mamata to help Britain's only university teaching Bengali for nearly 100 years
The CM, along with her 66-member entourage of ministers and bureaucrats, is scheduled to leave on Sunday for a four-day trip of the UK, where she is slated to meet industry captains and discuss investment possibilities in Bengal.
Mamata in her close circle has expressed surprise over the timing of such mails and calls, stating that these are aimed at scuttling her efforts to restore the state's industrial glory. Industry members, too, are critical of this trip-eve hate campaign.
"The tone and content of these emails seem to suggest that the propaganda is being generated by extremist right-wing groups, like the RSS, with links to the BJP… My party and I have been at the receiving end of such mails and calls, including death threats, for a while now," O'Brien said in his complaint to the police commissioner.
The brazen mails — most of them sent with attachments that appear to be long press releases — call the CM "biased towards a certain community". Taking on an intimidating tone, these mails warn potential UK-based investors against putting their money into "communal" Bengal.
READ ALSO: I will not bow down before BJP, says Mamata Banerjee
One such "press release", date July 23, and part of an email ostensibly sent from New York from an address , claims: "The chief minister Mamata Banerjee is running a government, which is promoting the international child trafficking mafia, aided by the Islamic fundamentalists, who are helping her to cling onto power. By playing into the hands of these fundamentalists, she has reduced West Bengal into a terrorist state".
Besides threatening Mamata with class action suits or PILs, the senders say they would stage roadside demonstrations against her. Incidentally, if they carry out the threat of protest marches, things might turn rather piquant for the ministry of external affairs, given that the Bengal CM enjoys Z+ security.
O'Brien said he also received "an extremely disturbing phone call" on his personal mobile number on July 9, following which he lodged a complaint with the Kolkata Police. "The call seemed to be made from a New Jersey (US) number the details of which may be retrieved from the mobile service provider," he said in his complaint. "The caller, a male voice, used profane and abusive language throughout the duration of the call, while he verbally attacked me with communally sensitive and violent statements. He threatened with dire consequences regarding a certain Mograhat case, and even resorted to death threat."
Though the threats started a fortnight ago, the party chose to be silent as its focus was "on a smooth Eid celebration on July 18 and the Martyrs' Day event on July 21", a source said. "But the successive emails being sent now indicate it is part of a larger plan to disrupt the chief minister's UK tour. This is a rather unfortunate development for it is not the chief minister they are targeting, it is Bengal which is in their firing line," the source said.
Party insiders said Mamata is extremely angry with the tone and tenor of the mails. There are reasons for it. The July 23 "press release" came with a headline: "Activists line up lawyers to arrest Mamata in London." The sender also has a Twitter handle, @StopUKinBengal, and an UK landline number. It goes on to claim that "global activists around the world have joined hands to press charges" against Mamata Banerjee.
BJP national secretary and spokesperson Siddharth Nath Singh denied any knowledge of the development. He, however, said, "In the recent Mograhat incident, we had seen it had generated interest even beyond India, in places like the UK and New York. The manner in which chief minister Mamata Banerjee is running her government, particularly her appeasement politics, is prompting the Bengali diaspora worldwide to react."
#