Dear All,
Please find below the flyer with details of funeral ceremony of Narain Kataria ji on Saturday, Nov 7th (11:15 to 1:15 PM) at Park Chapel, 2175 Jericho Turnpike,  New Hyde Park, NY 11040.    As flyer below notes instead of flowers, family is requesting to give donation to Ekal Vidyalaya or and Hindu charity of your choice.
To further the cause of what Narain ji stood all his life, we are considering to create a fund under name of Narain Kataria ji to award, 'Narain Kataria Hindu Rakshak' award for those working selflessly for Hindu causes,  support volunteers working for Justice for Hindus,  manage a website under his name (see http://NarainKataria.com) to document all his lifetime work.    We will send email with all details in a day or two and we request everyone to donate for this cause.
Hundreds of people around the world had paid tributes to Kataria ji, but thought I share few very thoughtful tributes to Narain Kataria ji, starting with wonderful tribute from his Son-in-law Shyam Bhaya (given at the end) that talks of his background that many of us are not even aware of.  
Also, one point we all need to take note is that from the tribute of Gaurang Vaishanav ji.   This is a lesson to all of us and we need to pause and introspect this.
A note from the wonderful tribute from Gaurang ji (complete tribute given at the end)
There is only one regret. The organizers for Modiji's program in New York both in 2014 and 2015 took advantage of Katariaji's sincerity and nobility.  While many a questionable characters were invited to a dinner with Modiji in 2014, Katariaji, who had worked very hard despite losing his wife during this time, was ignored and not invited. In 2015, he was asked to do all the running around, but when it came to having an audience with Modiji, he was not invited; of course many former Congress supporters and people who had not done anything for Modiji were given an opportunity to meet Modiji.  I had brought up this subject with Katariaji and for the first time, I saw that he was pained. Not that he expected anything, but it was painful to him that many less deserving people were getting to meet Modi and he, who at the advance age of 85 was standing with placards in cold was overlooked. He asked me to take it up with powers that be so that in future sincere workers wouldn't be taken advantage of by so called "leaders."  I am writing this because society should know what kind of leaders it has, that surround Modiji when he comes to USA. With all that, Katariaji told me, we have to keep working; we are not working for Modiji or BJP. We are working for the Hindus and for Bharat.
This is not to point fingers at anyone except ourselves as a whole community.   We as a community need to recognize those who are working selflessly among our own and need to ensure only those leaders working selflessly for community are chosen.   I am glad to report that some members are working to award Narain Kataria a national award such as Padma Vibushan from GOI.  We request everyone to support this. 
Lastly I want to give below the interview Kataria gave on ITV just few hours before he passed away.  It is amazing to see him speak passionately for India and Justice for Hindus even until his last minutes (see at 13:17 minutes mark when Kataria ji spoke)
https://www.youtube.com/watch?v=FHGjzjw9O24
Please go to Naraian Kataria ji's facebook website to pay your tributes at
https://www.facebook.com/Kataria1234?fref=ts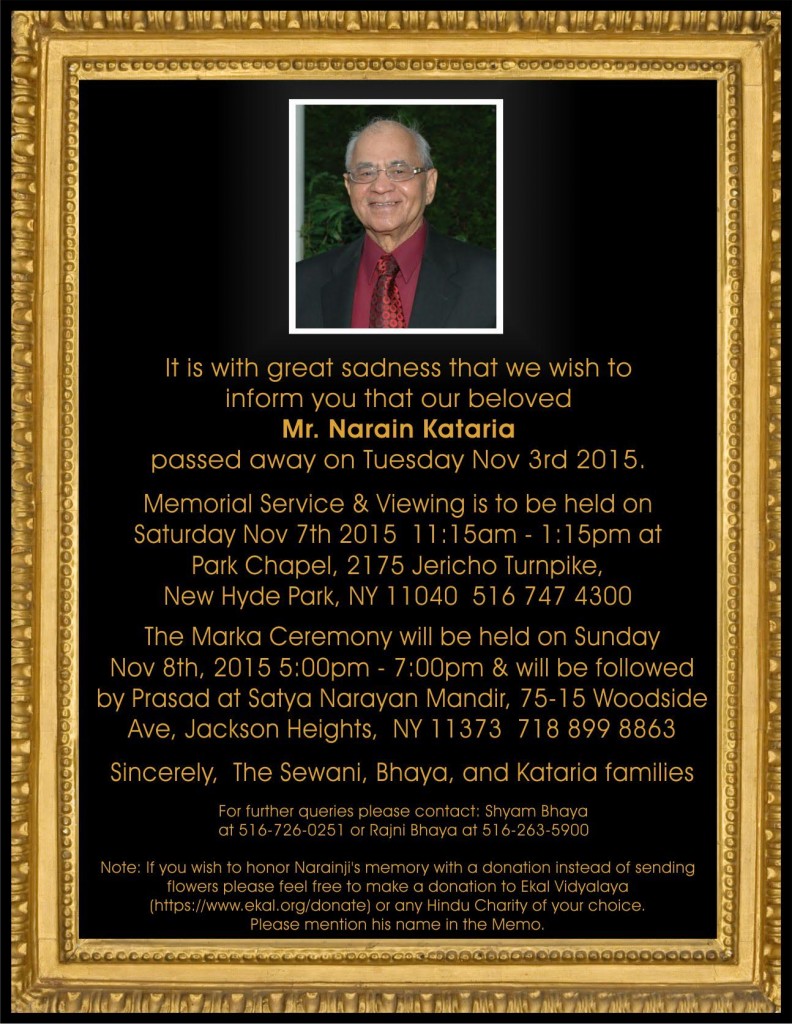 —
Arish K. Sahani Live Long ,BE Healthy & HAPPY Do Some Thing People Remember You For….GOOD (718) 271 – 0453 (718) 559- 4774 – Fax
Tribute from Narain Kataria ji son-in-law (with bio-data)
Narain Kataria was born on February 15th, 1930 in Sukkur, Sind in an undivided India. At a very early age he lost both his parents and the responsibility of looking after and supporting his family, consisting of three younger brothers and a sister, fell on his young shoulders. He rose up to the challenge and through a lot of hard work and sacrifice he made sure that his family survived this very difficult phase in their lives. This strength of character became a hallmark of his life's journey.
The Partition of India in 1947 was a traumatic period in Narainji's life when the entire family was uprooted, like millions of other Hindus, and the horrors perpetrated upon them remained deeply etched in his mind for the rest of his life.
 Narainji moved with his family to Ulhasnagar, near Bombay and the task of rebuilding his life and that of his family began once again. He realized early on that getting a good education was very important and applied himself diligently and worked his way to a Master's degree (in History) from Bombay University, while simultaneously working.
He had a deep love for music and learned to play the banjo. He spent many years fulfilling this passion playing with several musical orchestras. He was a tough teacher when training his daughters to sing. He did not accept mediocrity from anyone. For him, music was the sound of the soul. He last played the banjo on October 18th, 2015 and his control over the strings was a sight to behold.
In May of 1956 he married Bhagwanti with whom he had two daughters, Meena and Rajni.  Sadly, his wife passed away last September.  Narainji joined BARC in Trombay and worked as the Personal Assistant to one of the Directors. During his tenure at BARC, he was disturbed and concerned at what he perceived to be a lack of a serious focus within the organization, on matters of national security.
Narainji moved to the U.S.A. in the early 1970s where, after an initial period of struggle, he joined the law firm of Cahill Gordon in Manhattan as a Legal Assistant. He worked at this firm for over 25 years, and the quality of his work was recognized by all his colleagues at the firm. He retired from there in 1998.
During his years in India, Narainji had begun to sense that even after the Partition of India, there were vested interests within India and outside its borders that believed in destabilizing the country. At the same time he realized that the news media, which at the time was controlled by the Government, distorted and misrepresented facts that were detrimental to Hindus. With this in mind, he took it upon himself to lift the curtain of lies and draw attention to the truth. He became an outspoken and passionate crusader highlighting stories which the media wanted to suppress.
Early in this endeavor, he began writing letters to various newspapers presenting his point of view. His was a lone voice but he never gave up on reporting the true and hidden reality that there was a concerted effort by the elite to keep the masses in the dark. His continued efforts gradually began to make people sit up and take notice that there was finally someone who did not shy away from taking a stand.
Slowly, his message began to resonate with the Indians living in the US and after the advent of the Internet, spread all over the world.  People from all walks of life reached out to him and offered their support and encouragement and from there on there was no stopping.
He made it a point to attend every event in the Tri-State area, be it cultural, religious or political, to demonstrate his support and encouragement. And as an organizer of rallies, supporting or opposing any cause, he was unmatched. He spoke to student and youth groups because he believed they were the future of the Hindu Renaissance.
To foment a sense of unity among Hindus, in the mid-eighties Narainji came up with the idea of organizing the Hindu Unity Day in New York. He saw this as a venture with which to awaken and empower Hindus. This year marked the 20th annual celebration, which saw prominent speakers from India and the US speaking on important issues pertaining to Hindus. His dream of a Government in India, one which would treat all Indians alike, irrespective of their religion, was finally realized in May 2014.
As a family man, Narainji was a man of principles who instilled the values of hard work and integrity in his children and loved ones. He used to work more than 12 hours a day, even in retirement and never seemed to tire. He despised weakness in any form and set an example by his own moral and physical strength. He also had a very funny side and enjoyed spending time with three different generations of his now grown family. He could converse as easily with a 50-year old as he could with a teenager. He believed that the younger generation needed to be well informed about their proud heritage that went back thousands of years. Every family gathering had him emphasizing the perils and dangers that faced Hindu society.
Narainji used to joke that he would live up to at least 100 years. He might have lived only 85 years in body but he will live more than 100 years in our thoughts and prayers. His legacy will live on. May God bless him with eternal peace.
Tribute from Gaurang Vaishnav ji (VHPA)
Sw. Narain Kataria
Funeral Information:
Saturday, November 7, 2015
Park Funeral Chapels
2175 Jericho Turnpike Garden City Park, NY 11040
Tel.: (516) 747-4300
Narain Kataria, I knew
(Gaurang Vaishanv)
As I sit to write a few words about Sri Narain Kataria, memories come like a torrent of floods. 40 years is a long time to be friends with someone, who also is a mentor. I came to know Katariaji, as we affectionately called him in 1975-1977 when some of us NRIs were fighting Mrs. Indira Gandhi's emergency rule. That intense struggle of 18 months brought is quite close. Later on Katariaji joined Vishwa Hindu Parishad of America (VHPA) as a member of its Governing Council. He also became a Life Member of VHPA.
Working with him, I realized that here was a man who was totally fearless, unwavering in his commitment to protect Hindus and not caring to be politically correct. Katariaji has amazing ability to connect with one and all. He built strong relations with the Jewish leadership, Progressive Christians, Hindus from Caribbean, Hindus from Afghanistan, Hindus from Bangladesh, Hindus from Pakistan, and the list goes on.
Sometimes, we would get upset with a person who might not play the game by the rules but Katariaji's standard response was, "he is also doing something for Hindus, he is our brother." IN that sense, he was an Ajatshatru (a man without enemies.) But that doesn't mean that he was all goody goody and naïve. He had no doubts about the danger that the Islamic Jehad, terrorism sponsored by it and Christian conversion paused to the very existence of the Hindus and Bharat, i.e., India. He minced no words to articulate his views on every forum. He spoke at rallies and demonstrations, he gave dozens of interviews on TV and he wrote his views in incessant emails that reached 100,000+ readers. He fought enemies of the Hindu society tooth and nail without respite.
There is a phrase, Atra, Tatra, Sarvatra (Here, there and everywhere); that aptly describes Katariaji. If it was a cause of Hindus, he was there; if it was a program or event that would further Hindu cause, he would be there. He would not mind driving from Queens, New York to the farthest end of New Jersey, Washington DC or Boston, if he felt that he should be there to provide moral support. Katariaji was accompanied most of the time by three persons- Arish Sahani, Nand Ramsinghani and Subhash Arora. It was as if they were peas of a pod. At times, one or two of this quartet might be missing, but not Katariaji. He was a person of limited means, but he never shirked from giving. 100 dollars here, 500 dollars there, 1000 dollars somewhere else, there was no end to it. Only last week I was talking with him and the subject veered to finances. I asked him how he did it, because I know that only recently he had given assistance to couple of Hindu activists from Bharat and Bangladesh. He said that it was getting difficult but his children were well placed and didn't need his money. His social security took care of his basic needs and his investment income went to support Hindu causes. He ended it saying, Are Bhai, Dena padata hai, kaise chalega? (Brother, we have to give, how would I not, when someone asks?)
Katariaji was a master organizer, yet he was not a man of organization. He told me, Are bhai, main kaam kar leta hun, par muze aur zanzat pasand nahi." (I accomplish all the work but I cannot stand all the rules and constraints of an organization.) Thus he had excellent relations with some of the premier organizations, Vishwa Hindu Parishad of America (VHPA), Hindu Swayamsevak Sangh (HSS), Overseas Friends of BJP (OFBJP), Paramshakti Peeth (of Sadhwi Ritambharaji), Ekal Vidyalaya, etc., but he was not bound by any of them.
In mid 90's Katariaji founded Indian Americans Intellectual Forum (IAIF) to bring thinkers and writers on one platform and facilitate dissemination of ideas to protect and strengthen the Hindu society. He started with celebration of the Hindus as an annual Hindu Sangathan Divas in 1996, which morphed into Hindu Unity Day. I am witness 20 years journey of Hindu Unity Day. I might have missed only one or two programs in the two decades.  It started as a very much disorganized function. There would be so many cultural items and then speeches that the program would drag on and on. It was as if there was a start time but no end time! The program used to be in a squalid, old school building. Over a period of time the program became very professional, drawing best minds to articulate Hindu issues; it became completely disciplined and moved to modern facility of auditorium at New York's famous Ganesh Mandir.  Katariaji's intense efforts resulted in having the 700 seat capacity auditorium being "houseful" year after year. It became a much sought after and "in demand" program. At the Hindu Unity Day, people were treated to thought provoking talks by luminaries like Dr. Subramanian Swamy (a regular speaker over the years), Sadhwi Ritambhara, Rajiv Malhotra, Suresh Chavahnke (Owner of Sudershan TV) and dozens of others. Hindu Unity Day also became a venue for networking of several Hindu organizations. Though Katariaji was a known and respected figure, he never hankered for publicity or being on the stage.
Katariaji excelled in the art of demonstration and rallies. I stood with him at countless demonstrations in front of the Bharatiya or Pakistani Consulate offices. Sometimes we would have 100 participants and sometimes only 10. But it didn't matter to him. He was just focused on giving publicity to an issue at hand. At times it was a march. It was mindboggling to see Katariaji whipping up frenzy with a bullhorn. He never tired of slogan shouting. Katariaji was in such a robust health that at that time I didn't know his age and assumed him to be my contemporary. It was much later that I found out that when we were protesting against 26/11 massacre in Mumbai on a cold November day in 2008, he was already 78! That was a demonstration where a big contingent of Jewish people joined us, again, thanks to Katariaji's efforts and connections.
When Prime Minister Narendra Modi visited New York in 2014 September, Katariaji was assigned the task to bring busloads of people to the Time square where the organizers were planning to have live coverage of Modiji's speech inside the Madison Square Garden for the overflow crowds. About two weeks before the event, Katariaji's wife who had some ailments suddenly passed away. He didn't inform any of us. Only a few very close people knew about it and we came to know about it only a few days after the fact. When we asked him, he said that this was bound to happen and he kept doing assiduously the task of bus management for Modji's program.
Katariaji had one distinct achievement. In 2007, he was sued by Overseas Congress on behalf of Sonia Gandhi for "defaming" her in a New York Times full page advertisement. He was one of four persons, thus sued. The advertisement costing upward of $30,000 was put on behalf of all the NRI activists of USA to expose misdeeds of Sonia Gandhi just when she was going to address UNO on non-violence Day. The multimillion dollar suit was designed to break activists like Katariaji. The case was dismissed by the court since Sonia Gandhi, and not Overseas Congress was the aggrieved party. A second case was files then in a New Jersey court which met the same fate. This was a huge victory for NRIs who had been fighting Sonia Gandhi's regime in Bharat by proxy. It cost upward of $50,000 in legal fees but such was Katariaji's standing in the society that all us activists came together to defray the cost.
Last I worked together with Katariaji in September of this year. We were asked at a very short notice by the organizers to get banners and placards prepared and get volunteers to greet Modiji when he were to arrive at his New York hotel. Katariaji asked me to raise the funds and he took care of getting the banners and placards made. We stood together on September 23rd to greet Modiji and on 25th in front of the United Nations Building.  Katariaji played a very important role to diffuse the threatened anti-Modi demonstration by some misguided patidars from Gujarat.
There is only one regret. The organizers for Modiji's program in New York both in 2014 and 2015 took advantage of Katariaji's sincerity and nobility.  While many a questionable characters were invited to a dinner with Modiji in 2014, Katariaji, who had worked very hard despite losing his wife during this time, was ignored and not invited. In 2015, he was asked to do all the running around, but when it came to having an audience with Modiji, he was not invited; of course many former Congress supporters and people who had not done anything for Modiji were given an opportunity to meet Modiji.  I had brought up this subject with Katariaji and for the first time, I saw that he was pained. Not that he expected anything, but it was painful to him that many less deserving people were getting to meet Modi and he, who at the advance age of 85 was standing with placards in cold was overlooked. He asked me to take it up with powers that be so that in future sincere workers wouldn't be taken advantage of by so called "leaders."  I am writing this because society should know what kind of leaders it has, that surround Modiji when he comes to USA. With all that, Katariaji told me, we have to keep working; we are not working for Modiji or BJP. We are working for the Hindus and for Bharat.
Very few people would know that Katariaji was fond of music and played the banjo very well. As a matter of fact, he gave me an audio cassette of his recording long time back.
When I talked with Katariaji last on October 21st, I asked the usual question: "How are you, how is your health?" And his stock answer as always was: "Vaishnavji, I am not going any place. I think I will be OK for another 20 years, there is so much to do."
Dear Katariaji, yes, there is so much to do and we will take up from where you left off. I will always remember your greeting, "Jay Ho!"
Tribute from Pabitra Choudhary ji (Indian Americans Intellectual Forum)
NARAIN KATARIA –  VOICE OF HINDUS IN AMERICA IS NO MORE
– Pabitra Chaudhuri
Narain Kataria , one man army , working  fearlessly and tirelessly for last  forty years for galvanizing  Hindus  to uphold the rights of Hindus and protest the injustices to Hindus anywhere. On November 2  evening he participated in a TV debate in ITV New York  and reached home in Queens, New York  at 9.30 PM . He was declared dead on Nov 3. The details are still not available. The Body will be on view on Nov 7 .His wife pre-deceased him by a year. He is survived by two daughters , their husbands and grand-children – all in New York state.
The subject of his last  TV talk was the so-called   air of intolerance in India . He was clear that the new vision of Prime Minister Modi raised aspirations of the whole nation and Indians worldwide and exactly that is the reason, the Congress, the beneficiaries of Congress / UPA led  regimes of sixty years  creating fiasco  at every step to disrupt the progress. . Because the people see the emergence of a new India with Modi as the true nationalist  leader.
In  80's  and 90's  Arabinda Ghosh of Houston brought out publications on the horror condition of Hindus and the sustained campaign against Hindus , by other Faiths ,for the only reason of being  Hindu .  Kataria  took a cue from Ghosh and made mass communications by email to a mammoth number of people apart from his blog.
He was the main force in formation of Indian American Intellectuals Forum Inc (IAIF),two decades back, where renowned mathematician  Prof Ravi Kulkarni was chosen as the First President , whom  Kataria later  succeeded as President. IAIF started an annual event Hindu Unity Day.This Year was  the 20 th year with  Subramnium Swamy as Chief Guest  and Speakers like  Rajiv Malhotra and Suresh Chavanke  and Aditi Banerjee on board. Baba Ramdev and Prof Tathagata Roy,present Governor of Tripura were Guest speakers on earlier occasions.
He made campaign against the laws of India controlling only Hindu temples by Government.
He with his Senior VicePresident Arish Sahani , Vice-President Pabitra Chaudhuri and executives Nand RamSinghani,Jagdish Sewani and Subhas Aurora kept very good contact with the Indian diaspora at large  in New York New Jersey . He reached  Guyana and Trinidad and  Sikh and Hindu community of all linguistic people.  .
In  October 1990 and Dec  1992 when mayhem  murder , arson, cleansing , rape and abduction were unleashed on Hindus of Bangladesh and in 92 in Pakistan , he came out forcefully to protest .   Three to four thousand Hindu temples were destroyed on each occasion.  His voice was like a lone voice from the Indian community .However that gave some push to the slender Bangladeshi Hindu-American protesters. Same way on Oct 2001- 2005  barbarism descended on Hindus of Bangladesh and he  was by the side of  Hindu-Americans of Bangladesh to raise the issue to stop the atrocities.This happened post 9/11/2001, yet the news was censored in India and USA.
In 1990 , in Jammu & Kashmir Hindus & Sikhs  were under vicious barbaric  attacks , gang-rape, murder and half a million were cleansed out of their ancestral  homeland and still live in shelters in other states.  This is unheard of  matter in the entire world, where in a country the minority is living with full protection and peace with majority in all states , but in the only state where the nation's majority is the minority , they are driven out with brute force and unable to return in over two decades. This pained Kataria very much .The on-going  torture on Hindus & Sikhs  of Bangladesh and Pakistan  anguished him. Kataria was in his teens in brutal partition  days  in West Pakistan. Unlike most Hindus he remembered the miseries of Hindus just for being a Hindu. In full throttle he led the protests at different levels  for security of the victims..
He met US Congressmen & Senators, organized Seminars , led so many protests , deputations, meetings , marches  in various  places including designated  locations  near United Nations , Indian Consulate, Pakistan Consulate , Universities etc.   For publication of a full-page advertisement in New York Times about Sonia Gandhi , the Overseas Congress filed a multi-million dollar  defamation suit against Narain Kataria , Arish Sahani and Satya Dosapati .  Though of simple life-style, fearless,,they never relented and fought the case and were vindicated.
The recent  wave of attacks on Hindus in West Bengal bothered him.  He put his full force with Satya Dosapati who led campaign against the abduction of Tuktuki Mandal . He expressed puzzle that in Park Street rape ,Burdwan district rape , Ranaghat rape and particularly the gang-rape and murder by tearing apart the two legs of a young Hindu girl in Kamduni unfazed no one. The so-called celebrities of India never came out with any return of awards when such  heinous crimes taking place in West Bengal on women apart from political murders.  In all those cases the assailants happened to be from minority.
The journalists were mute even  when the century old Statesman of Kolkata were terribly vandalised and seized for four days in 2009 February , for publication of an article which was printed  in London earlier without a whine.They alleged  some insult to their religion. The arrest of Editor and Publisher and their unconditional apology satisfied volatile  thousands from minority who blocked  the life-line at the heart of Kolkata – Chowringhee. Almost the entire print and electronic TV media censored the Statesman news.  In demand to chase Taslima Nasreen away from Kolkata thousands
paralyzed a large swath of  the city and  pandemonium  was created with burning of vehicles and stoning. One Assistant Commissioner of Police was severely injured , but nobody was even arrested  at spot. And ultimately no one was punished. Where were these Souls when Taslima was really driven out.
Kataria often said as the media in India and Indo-American media and mainstream media in USA are biased against Hindus and censor all sordid tales of Hindus , it makes the   task extremely difficult to aware people.  They  do not even know the incidents.. Why celebrities talk of Babri and Gujarat all the time ,but those same celebrities  keep mute on 400 year old Raghunath and hundreds of other temples destroyed  and cleansed out of half-a-million  people of Kashmir ?
It is an uphill task. So, he used to say ; no choice ; we cannot make them honest . So we have to reach more people direct until the mass  become aware and ask for justice for Hindus.
IAIF ran all these work without any overhead cost pinching pennies. Kataria  wished if some  wealthy Hindu comes up with a large fund then New York is the ideal place to establish a  multi-faceted Institute for Hindu Dharma, scholarly research and dissemination  and a secular school upto Grade Eight imparting  Sanatan Dharma  as well, in the pattern of Catholics/ Yeshivas. And with a place of worship.
Funds were hard to come by. That remained a Dream.
Pabitra Chaudhuri
New York
001  718 853 3091