See Deccan Chronicle article below on 21 year old Hindu woman gang raped in front of her three year old son by three Muslims in one of the several islamist infested districts of West Bengal.
Mind you those who perpetrate are not Bangla Deshi Muslims, but these are Indian Muslims.    Sadly, the rapists in India range across the religious cross section but it takes a very dangerous turn to Hindu families in Muslim dominated areas where Mosques encourage love Jihad and the religion teaches infidel woman is a Muslim property for his sexual pleasure.    Note that in the famous Nirbhaya case the juvenile who slammed the rusted rod into Nirbhaya's vagina and pulled her intestines out is a Muslim juvenile and Dr. Swamy is pursuing case in SC to try him as adult.  The reality today from people on the ground in West Bengal is no Hindu girl or woman in 400 blocks of West Bengal spanning many districts can feel safe where Muslim population dominates.  This is deja vu, like during partition of India.
Please see below a letter from West Bengal Muslim kidnapper to Hindu mother whose daughter he  kidnapped saying that he kidnapped her daughter based on a bet with his friends. Translation in English is given below.  Unless we as humanity address the cancer of Islam, particularly wahabbi Islam, we are leaving a more dangerous world for future generations.
Muslim Kidnapper Note:
​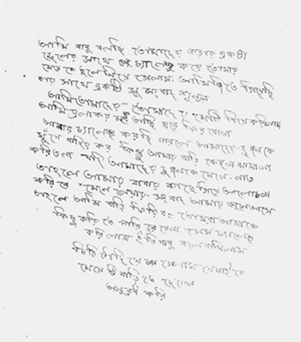 Translation: This is Babu here. As part of a bet with one of the lads in the locality, I have abducted your daughter, winning the bet in the process. Now listen to this wonderful news- I have tied the [wedding] knots with your daughter. Although I am still in the neighbourhood, I have decided not to return to my residence. I dare you to find the both of us but kindly do not bother my family. If you are willing to accept my marriage with your daughter, then I suggest you discuss the same with my father. Once I hear the news of your acceptance, only then will I return home. Till then I Babu, can say with complete assurance that you wouldn't be able to do anything to me. I hope you take your decision wisely.
Deafening media silence:
The largely pseudosecular India media have completely abdicated their responsibility in speaking for the victims and the dangerous situation prevailing in West Bengal (this event is an exception, jihad has been going on for last twenty years).   The right to media is a responsibility not propaganda.   Every day we see media reporting useless and stupid items but not the life and death situation of W Bengal which will be the norm as Muslim percentage increases in many pockets of India.   There is no discussion of radicalization of Muslims with Saudi funding, questioning the existence of Madrassas that teach hate, the womb jihad perpetrated by Mullahs  subverting democracy, the love jihad.  Instead Indian Express reports about how some West Bengal activists helping few Muslim girls marry Hindu men and stay in Hindu religion.     The activists are now target of Islamists for being slaughtered.   Does not these media bastards have any responsibility? West is now openly calling, 'the poisonous Islamic ideology' but India is sleeping.   Can't we at least learn from other countries?
Every day we hear media saying a Muslim man discriminated against job or Muslim woman not rented out, that too in BJP states, which should be said because discrimination is not allowed in any democracy, but why so much silence about the dangerous situation in West Bengal.   Is life of all citizens not equal?   The silence will destroy all Indians, including Muslims who will create pockets of Pakistan and Bangla Desh around the country.
The biased animals in Indian media is astounding.   Rajdeep Sardesai ranted again and again about Gujarat but not a single word about half million Kashmiris.  He assaults a visitor to Modi meeting in NYC and when he pushes him back he takes only the clip where he was pushed back and tells the world he was assualted.   The other creature Barkha Dutt asks a Hindu spiritual teacher who says all human beings are equal, as to why we need Gurus but the same creature will not go and ask Mullahs why are you teaching to hate, kill and rape.   Arun Shourie in his well researched book, 'Harvesting our Souls' talks how media creates hype against Hindu activists and teachers to help evangelists.
Maybe we need to learn to give the Saudi justice of 'beheading' to the media persons who are abdicating their responsibility.  Maybe we need Putin or Chinese Governments approach to handle what India media is really an India propaganda machine by revoking their licenses.   Indian media is total failure when coming to grips the dangerous situation looming.
On Friday, May 29, 2015, Souptik Mukherjee <souptikm@gmail.com> wrote:
ePaper
Friday, May 29, 2015 | Last Update : 07:01 PM IST
Home » Nation » Current Affairs
Woman gangraped in presence of three-year old son, three arrested
PTI | May 29, 2015, 13.05 pm IST
Picture for representational purpose (Photo: Deccan Chronicle/ File)
Madhyamgram: A 21-year-old woman was allegedly gangraped in her house in the presence of her three-year old son in West Bengal's North 24 Parganas district.
District additional superintendent of police Bhaskar Mukherjee said that the incident took place on Wednesday night at Rajbati village when the woman's husband was away.
The three accused were known to her and were from the same area, forcibly entered her home and allegedly raped her in the presence of her son.
She filed a complaint with the police yesterday and the accused – Shahbuddin, Md Shafi and Noor Islam were arrested last night.
The woman is undergoing medical tests, Mukherjee said, adding police investigation into the incident is on.
Two years ago, a 20-year-old college girl was abducted, gangraped and murdered at Kamduni, near Barasat here. Hearing in the case is on.
PAGES