We may have a PM who works day and night for taking the nation forward, a PM who speaks for utilizing the power of Women (Nari Shakthi), someone who is sensitive for the needs of the most disadvantaged,  but there are some within parts of local BJP that refuse to change their old ways.  These local forces have increasingly become an utter disgrace not just by the amount of corruption but also by their indifference and arrogance towards those who are working for the nation to fulfill the dream of Atma Nirbhar Bharat of the PM.  Not too long ago, leading industrialist from Karnataka, Mohandas Pai brought attention to corruption in Karnataka BJP Government and appealed to PM and Amit Shah that the corruption free & development oriented Government run in Delhi is sorely needed in Karnataka too.   He requested corrupt officials to be sacked and corrupt politicians sidelined.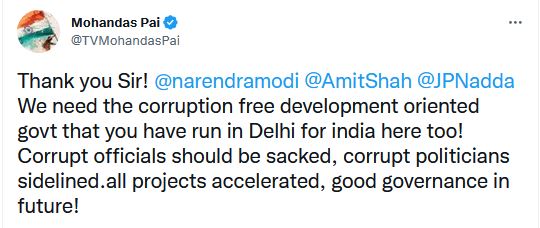 The blatant corruption accompanied by the arrogance and indifference of both officials and politicians in the construction of 10 lane National Highway from Bangalore to Mysore is another low in Karnataka BJP.   As more news such as these come out, people will be shocked to learn the perversion and extent of corruption.   This article relates to one example of how they targeted against a nationally recognized woman entrepreneur Chayaa Ninjappa who has been helping rurals and tribals to help reach their products into high end markets.

Chayaa Ninjappa
is an award winning entrepreneur who is Founder and Managing partner of the Brand Nectar Fresh in Mandya district in Karnataka.   She established Nectar Fresh in 2007 as a small start up which is today producing 400 tons of products every month.   She is winner of  of nation's most prestigious award by NitiAayog, 'Women transforming India' this year, under manufacturing sector.  She also won many other national and international awards. Her unit is Khadi and Village Board backed rural enterprise that has been empowering the rural and tribal folk, particularly women as well as small farmers selling their products to big companies such as Himalayan ITC, Med Plus, Walmart and 5-star hotels.   She also started another initiative NAMAN aimed at helping artisans in tribal hamlets to promote their hand-made goods on the global market.   This was started when the country was reeling under Covid-19 in response to a call for 'Atma Nirbhar Bharat' by PM by securing a personal loan of 1.75 crore and without any subsidy or grant giving every penny back to society. 

Nectar Fresh and NAMAN premises in Srirangapatna Taluk, Mandya District
Due to harassment by the National Highways Authority of India (NHAI) NAMAN is now being closed.  In a recent press conference covered in multiple media channels such as  in Vijayavaani (in Kannada) and Times of Now (in English), Chayaa Ninjappa reported multiple instances of harassments by NHAI including denying the sorely needed entry and exit road to the service road that leads to their Nectar Fresh and the Naman.  Some of the harassments were stopped only after PM office got involved. One instance of harassment they reported was even after surrendering 20,000 sq ft that they kept aside for a training center to be used for tribal skill development, they deliberately delayed the payment resulting in inability to purchase adjacent property because of increase in the prices.  Also, such payments have variations and no payment is given to anyone unless a commission (bribe) is paid.  She named particularly two individuals, one is NHAI Project Director BT Sridhar and another is BJP MP Pratap Simha. The articles also pointed out many farmers have also been complaining on the way the NHAI has been addressing their concerns about the lack of ingress and egress points to the thoroughfare particularly where underpass and flyovers are constructed.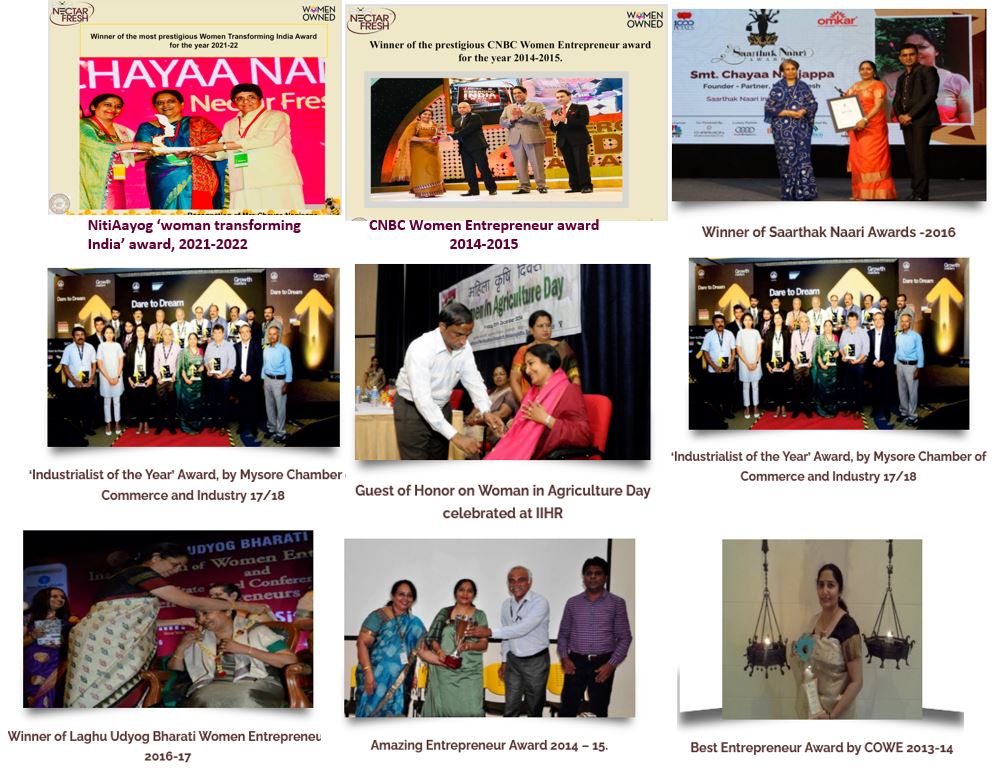 National & international awards Chayaa Ninjappa received including NitiAayog 'Women Transforming India', CNBC Women Entrepreneur and many others
The shocking truth of corruption
Responding to the allegations by Chayaa Ninjappa on NHAI, the NHAI director BT Sridhar said (as quoted in Times of India article), 'All of us are equal in the eyes of the law.  We cannot change the design to benefit an individual.  Not just farmers but also other businesses too were affected owing to ongoing work on the expressway'.    Let us see how far this is true below, which should expose the lies and corruption deeply embedded in the NHAI and politicians activities.
NHAI  special entry/exit underpass for 'Poojari Fish restaurant' of Nayeem Khan within 800 meters of another entry/exit 
Nunganhalli road entry on the Highway is about 4 kms south of Nectar Fresh.  This is where NHAI chose to provide exit/entry to Nunganhalli road.  Within about 800 meters of that entry, NHAI provided a complete new set of entry and exit ways for a restaurant (owned by Nayeem Khan and Aysha)  including an underpass directly leading to the restaurant even though it already have access through the Nunhanhalli road exit !!   This is while at same time refusing to provide it to Nectar Fresh (that is nearly 4 kms away)   serving the tribals, poor farmers and rural artisans  and is also much needed by rural farmers and trucks towards Pandavapur-Pune Highway and Madikeri-Mangalore Highway.  Several rural farmers also have been making complaints for long time to no avail but a restaurant which already have access got special benefits, even an underpass directly to the restaurant!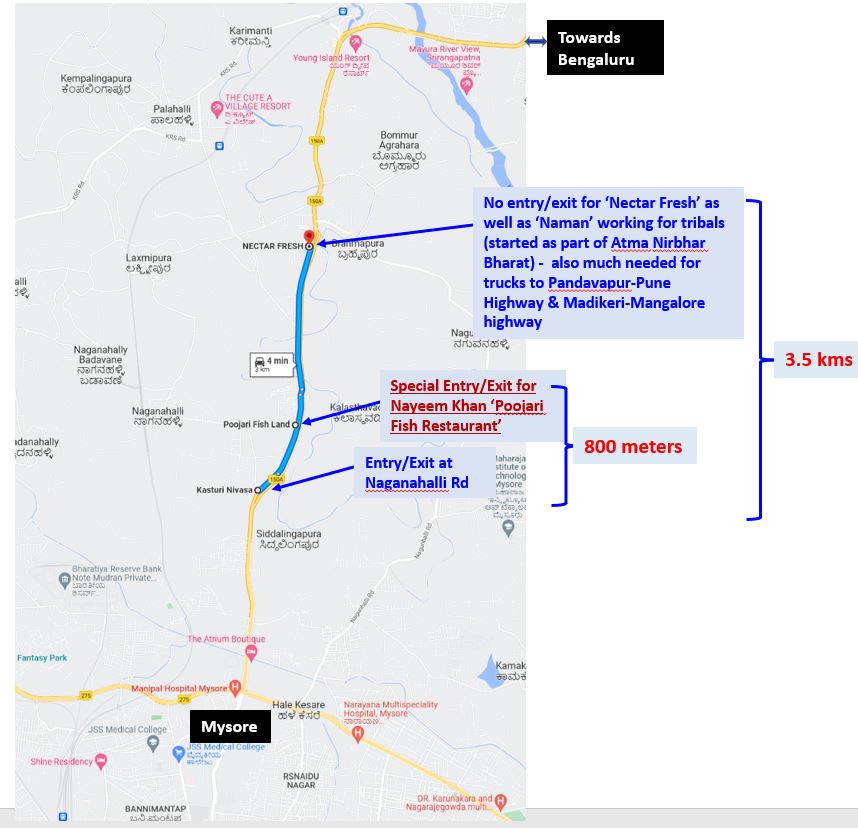 NHAI even provided a special underpass directly into the Poojari Fish restauarant of Nayeem Khan!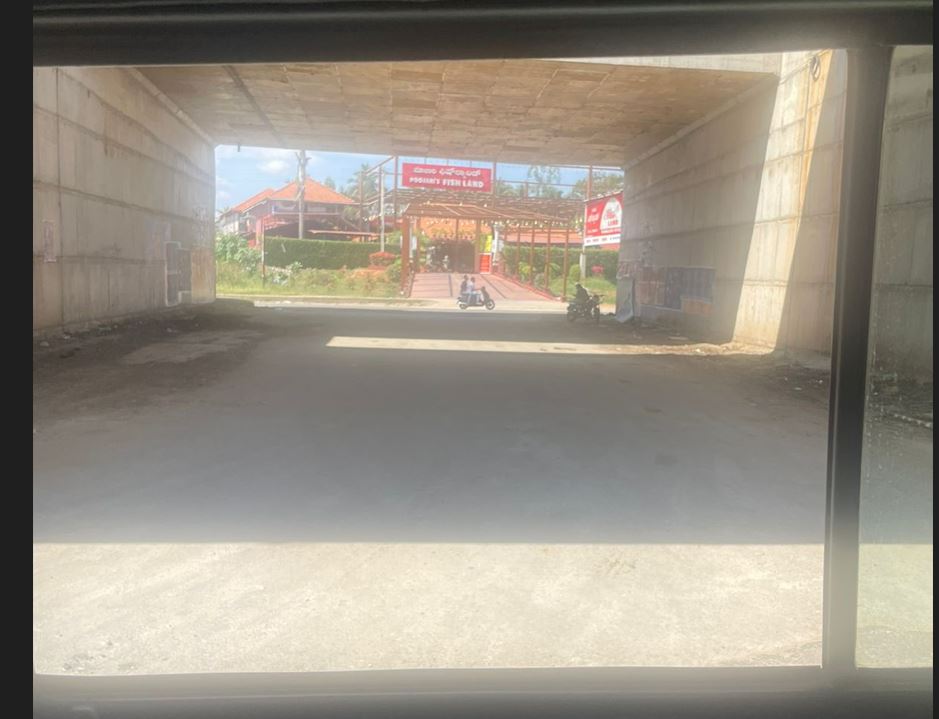 Here is hand drawn picture of the highway exit/entry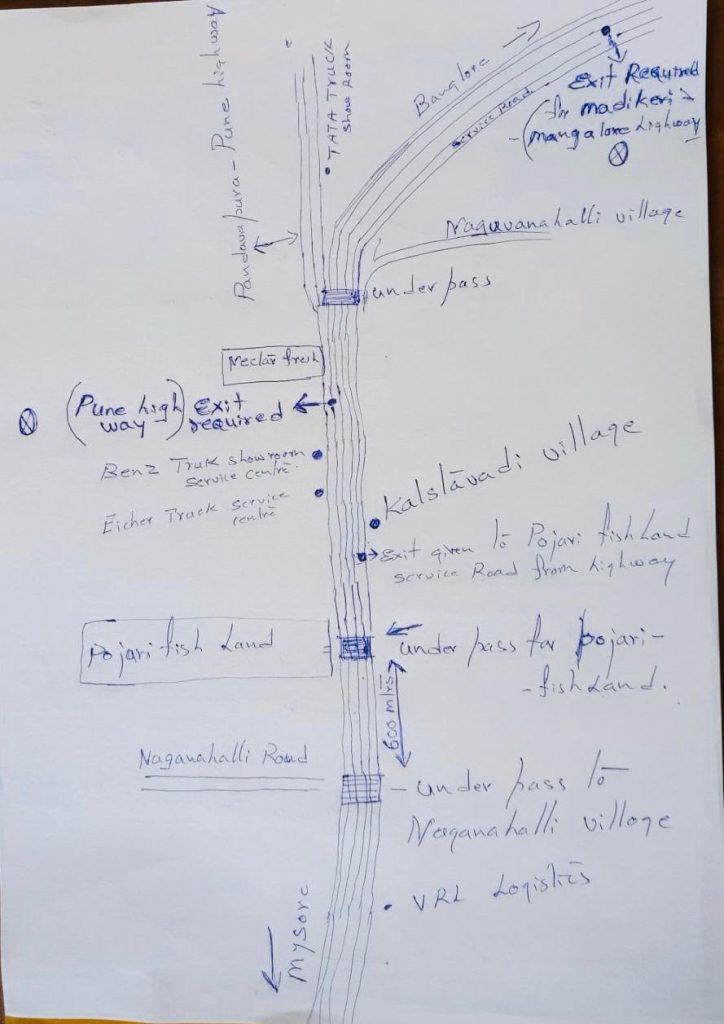 More corruption  – 'Best route' versus a 'compromised route' to suit a powerful politician
The murky and dirty corruption does not end in providing a special entry and exit to a restaurant (while denying those who badly needed) but also the whole path taken is being questioned by different sources.  The best route would not even be anywhere close to Nectar Fresh, but the route close to Nectar Fresh was apparently taken to help increase the property value of a very powerful politician.  How much resources are wasted in this?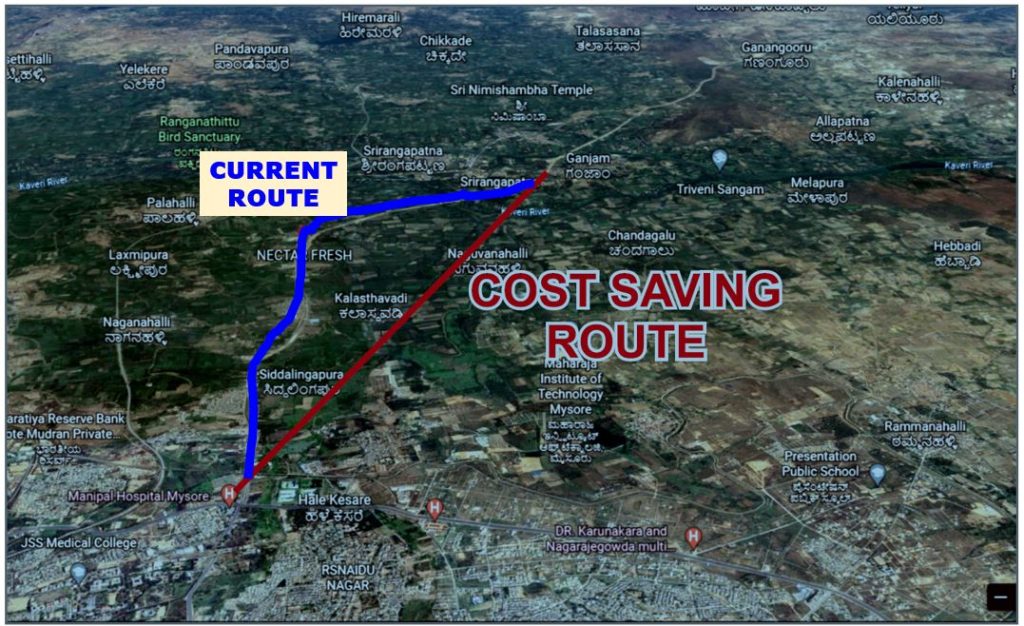 No Rest room, no re-entry with one or two exceptions from Bangalore to Mysore (nearly 150 kms)

Apparently the 10 lane highway of nearly 145 Kms between Bangalore and Mysore built with such high cost has no rest rooms, no area for trucks to cool off and no re-entry once you exit except perhaps one or two exceptions.   Was this the plan for the beginning?  Is every highway in India built in this manner? So, if someone want to answer nature calls (to pee or poop), the only options are do it on the side of the highway or take a service road which will not allow re-entry back into the highway!!!  This is a 10 lane highway that will be used daily by many thousands of people.   With truck drivers not having a place to rest, this can create a very dangerous situation.     
Who are involved in this?
In her Press conference and Facebook post, Chayaa Ninjappa mentioned primarily two individuals involved in this scheme,  at least for the decisions of entry/exit and other harassments her business has been subjected to at many levels.  One is NHAI director, Mr. Sridhar who she believes has immense political backing to his questionable actions and another is Pratap Bhanu Simha, a Mysore-Kodagu BJP MP who is deeply involved in the Highway construction matters (as reported in many media sources).   She mentioned about very large number of complaints against Mr. Sridhar and that he could not be taking his actions without immense political backing in the murky political climate in the Karnataka.   She questioned why BJP MP Pratap Simha is  getting involved in the Highway construction in the area where Nectar Fresh is located (in Mandya district), which is not even in his jurisdiction.  She feels that since she is a successful and highly recognized entrepreneur, Pratap Simha views her as a competition politically in the future and deliberately meddling in the affairs.  She also asked, on one hand Pratap Simha is highly vocal against Muslim community members which is dividing our communities while at the same time violating the rules and making favors to some members of that same community.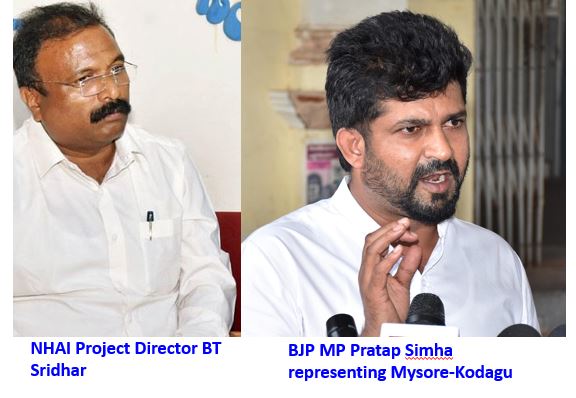 Questions we need to ask ourselves.
Infrastructure is a key ingredient for progress of the nation whether developing businesses or tourism which is why PM had taken it up in a big way from day one. Countries like China and even Vietnam are forging ahead while Bharath is being pulled down by shady and corrupt politicians and bureaucrats.  China is even building a bullet train infrastructure to Singapore and already have bullet trains covering 24,800 miles connecting 90 percent of its cities at speeds of 350 km/hour!  The enormous magnificence, architecture and science behind India's landmarks is a large source of revenue for India and it has immense potential to lift up millions of lives through infrastructure development and better access facilities.  Even a small country like Cambodia generate big portion of revenue from their landmarks. As much as PM is attempting, India is pushed behind by these low level selfish politicians and bureaucrats.  If you read above, you wonder how a politician who has little to speak of contributions to the nation all his life can call shots at someone who has been working very hard, recognized widely and contributing to the society.   What message we are giving to women who are making it in spite of many challenges if few unscrupulous people can attempt to wipe it out.  What explains Nitin Gadkari's silence in all this? Is there another chance for BJP government in the next elections for BJP in Karnataka if this continues?  Lastly, you wonder how people will travel without any rest room for hundreds of miles and no way to exit. This is insanity!    
References.
1) Times of India, Nov 23, 2022, 'Chorus over inconvenient access to expressway grows louder'
2) Vijayavani (in Kannada), Nov 2022,  'Business woman Chayaa Ninjappa accused harassment by MP and Officials – For Modi's dream, his own people (Swapakshi) are hindrances
3) Facebook post of Chayaa Ninjappa relating the harassments