https://www.hindupost.in/jihadi-mob-attacks-hindu-homes-in-bhainsa-telangana-18-houses-belonging-to-hindus-burnt-and-properties-looted/
Hindu homes burnt, looted in Telangana (Islamists) mob attack
BY: SOURCES JANUARY 14, 2020
In yet another incident of mob violence against Hindus and police, a 400-strong Muslim mob went on the rampage in Telangana on Sunday night.
As reported by Organiser –
"In a case of deliberate, large scale violence, a Muslim mob attacked members of the Hindu community and looted and burnt their property in Bhainsa town of Nirmal district, Telangana, on Sunday.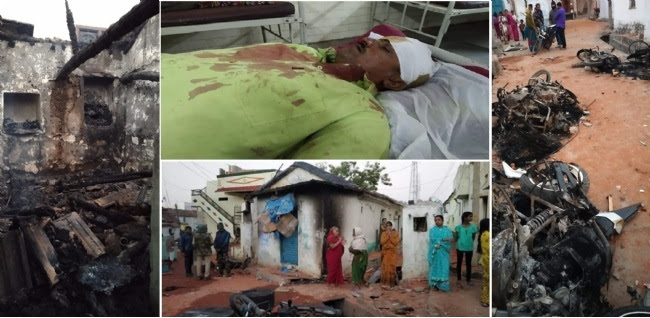 As the Muslim mobs went on a rampage, 18 houses belonging to Hindus were burnt and properties were looted. The mob also pelted stones at police who rushed to the spot.
The trouble began when a Muslim youth was admonished by elders for his rash driving and for using abusive language against the residents of Korba street, Bhainsa town, according to local people.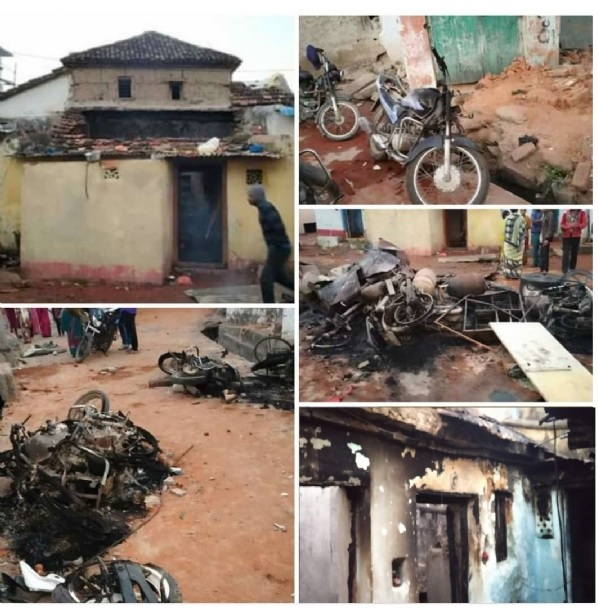 Keeping this in mind, the Muslim youth returned with a mob of around 400-500 Muslims after 9 pm, and started violence by burning parked two wheelers and pelting stones on residents. The mob also cut the water pipes of fire engines which rushed to the spot to extinguish the rapidly spreading fire.
It has been reported by locals that the mob has exclusively targeted houses belonging to members of Hindu Vahini organisation and went on a rampage with criminal intent.
In this violence, eight police personnel were injured. As per the latest reports, section 144 has been imposed in the town. Internet and phone services are also reportedly not working.
Just in…
Bhainsa Hindus situation worst
● attack started at 10PM yesterday and lasted till 10AM today, police failed to stop.
●18 houses totally burnt
●40 houses partially burnt
●70 two wheelers burnt.
●14 Hindus victims were kept in custody.
● Internet shut in 3 dists. pic.twitter.com/MsbVAHNq4C

— Karunasagar Adv ⚖️ (@karunasagarllb) January 13, 2020
It is believed that AIMIM workers were also involved in the mob violence. The Asaduddin Owaisi led Islamist party is an ally of ruling TRS in Telangana, and controls the municipality in Bhainsa town.
Mob attacked Hindus, Burnt & looted houses in Bhansia in Telangana.

AIMIM party is behind the attack on Hindus pic.twitter.com/P9TKG1To0o

— Raja Singh (@TigerRajaSingh) January 13, 2020
Opposition BJP has also demanded that upcoming Bhainsa municipality elections be postponed in light of the violence and communal hatred being spread in the name of anti-CAA protests in the region. Asaduddin Owaisi, MP from Hyderabad, has alleged that 'Hindu Vahini' organisation is behind the violence.
Seeing the pictures of burnt houses and affected Hindu families, readers can judge for themselves how true Owaisi's allegations are. Incidentally, Nirmal town is the place where his younger brother, MLA Akbaruddin Owaisi, gave his infamous 'remove police for 15 minutes, and we (Muslims) will show you (Hindus) in his powerful (hate)  speech in Dec, 2012.
Follow up:
Sridharan Siddhu, a Hyderabad-based journalist, has been booked by Telangana police on charges of spreading religious hatred for his report on the recent communal violence in Adilabad district's Bhaisna town.
https://swarajyamag.com/politics/how-a-journalist-is-fighting-telanganas-kcr-government-that-filed-an-fir-against-him-for-doing-his-job
More details on Sridharan Siddhu Facebook page. https://www.facebook.com/YESSIDDHU