FOR IMMEDATE RELEASE
Let Parliament Work
https://www.facebook.com/events/824698667659313/
Civil Society Group "Let Parliament Work" to organize rallies across India to urge Parliament to work together for the progress of the nation.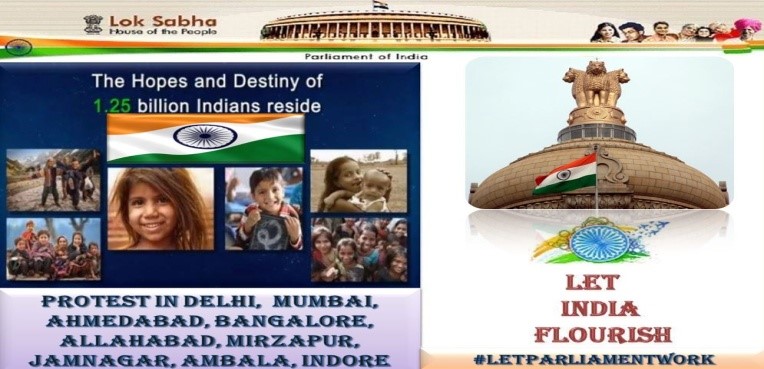 New Delhi, Dec 13, 2015:   Rallies are being planned across several cities in India such as Delhi, Mumbai, Ahmedabad, Bangalore, Allahabad, Mirzapur, Jamnagar, Ambala and Indore in the next few days urging political parties across the cross section to come together and work towards the progress of the nation.  Specific details such as time and venue will be at the facebook event page given here.  The tentative list of cities is given below and more are being added.
Wed  Dec 16th:    New Delhi, Mumbai, Lucknow, Allahabad, Mirzapur, Jamnagar, Ahmedabad
Mon Dec 14th:     Bangalore
 Parliament, the citadel of our sovereign, democratic Nation, is wrecked by disruptions causing enormous harm for the progress of our nation.  Demonstration and protests, stalling Parliamentary proceedings have retarded the nation's development. Every political party having occupied Opposition benches has resorted to stalling, however the increasing degree and intensity of disruption during recent session, particularly with last session fully disrupted, the stalemate has become a fait accompli.
During the last monsoon session only one bill could be passed by both houses of the parliament,  Lok Sabha and Rajya Sabha during the entire session.  Rajya Sabha is perpetually adjourned working only 9% of the time whereas Lok Sabha could work for about 48% of the time.  While it is estimated that it costs 2.5 lacs rupees per minute of exchequer money to run parliament, the cost to the nation is a whole lot more.   Bills like Goods and Services  (GST) bill along with other economic bills are extremely critical for the progress of the nation.  Every year GST bill is not passed, it costs 10,000 to 20,000 crores rupees (20-40 billion US dollars), an amount that would foot the bill of entire MNREGA scheme for one year.  Other bills such as Real Estate Bill, Electricity Amendment Bill, Commercial Courts bill, Prevention of Corruption Bill, Whistle blowers Bill,  Micro, Small& Medium Enterprises Bill, Bureau of Standards Bill, Negotiable Instruments Bill and Arbitration and Conciliation Bill that were pending in the Parliament are critical for economy of India.
India has been a citadel of democracy and our Parliament is the symbol of that democracy.   However, sadly the very instrument of democracy is subverted and the cherished goals of our nation are blocked for political gamesmanship.  Our neighboring country China has progressed by leaps and bounds and its economy is 5 times that of India today.   While countries across Asia are progressing, India's progress is being hampered by our institutions of democracy, our own Parliament.
Heeding "freedom and fundamental duties" enshrined in our Constitution, many organizations in India have joined hands under the banner "Let Parliament Work". The forum is a civil society group which brings in scientists, doctors lawyers, engineers and professionals from different walks of life. It also includes activists, artists, movie makers, spiritual leaders, entrepreneurs and many eminent personalities from different professions.   An earlier Petition to Members of parliament for smooth functioning of the parliament by India's industry leaders has received nearly 64,000 signatures.   A video of the situation is available at our website.
To focus attention of all concerned in this National crisis, civil society groups have organized themselves under "Let Parliament Work". Rallies are being held across several cities in India to urge Honorable members of Parliament to resolve all differences and keep the interests of the nation first.  We urge all concerned citizens of India to take part in the rallies closest to your location and let your voice be heard.
Contact:  
Web:                                     http://LetParliamentWork.com
Email:                                    contact@LetParliamentWork.com
Facebook Group:              https://www.facebook.com/groups/1696057353959031/
Facebook Events:             https://www.facebook.com/events/824698667659313/
Twitter:                                #LetParliamentWork