URGENT Action on Voter fraud, PLEASE RESPOND ASAP: Call to action: pray, verify, report and more for Trump
|
Please act on 3 simple PRIORITY actions items as given in email below.  PLEASE SPREAD THE WORD.
———- Forwarded message ———
From: 
Monica Morrill
<monicamorrill@yahoo.com>
Date: Mon, Nov 9, 2020 at 5:38 PM
Subject: Call to action: pray, verify, report and more for Trump
To:
I'm sending this with a few updates as things are moving quickly in PA and all seven contested states. Our best strategy now is to take the voter fraud cases in the seven contested states to the Supreme Court today. President Trump has requested people pray when his legal team is presenting the argument before the Supreme Court today at 5pm EST, happening now. 
Here are the other THREE priority action items that need your attention and will only take a few minutes (as given below):
1. I'm informed by someone in the Trump campaign to please urge all US citizens for Trump to fill out your comments on the link below to the US Supreme Court with your name, email, and comments, it only took me a few minutes and you have my permission to write a similar note as mine I've just highlighted in bold what you would need to change if you live outside of PA. It took me just a few minutes to complete:
1) Go to this Supreme Court contact form:  
2) Enter the following:
Subject Line:  America needs free and fair elections
Comments/Question:
Dear Honorable Supreme Court Justices:
I'm asking you to hear the case being presented in the U.S. Supreme Court this week. As a citizen of the Commonwealth of Pennsylvania [or other state here], I'm deeply disturbed by the irregular vote count, and numerous other cases disenfranchising the voters. There are thousands of violations of the election law just in PA [or other state here] alone. I'm requesting the U.S. Supreme Court immediately take action to ensure there are free and fair elections throughout all 50 U.S. States and territories, even if it requires a recount and/or not limited to a revote. Thank you.
Sincerely,
[name here]
2. Many of you from PA are finding that although you voted in person, the official website says you voted by mail. This is very disconcerting because that means that someone may have stolen your vote. You can enter your name or a family's name to verify whether a PA resident voted by mail: http://a.pavotecheck.com/vote-6
3. I've received dozens of valid cases about irregularities in the voting process, and voter fraud. If you or someone you know has experienced voter fraud ANYWHERE in the US, please ask them to fill out their details, on this official Trump 2020 link to defend your/their vote. The more evidence and testimony we can supply, the better. IF you have already reported voter fraud and you need to fastrack your case, please let me know and I will refer you to the relevant Trump legal team I'm presently working with in the US: Voter Fraud Report Form
Voter Fraud Report Form

Formstack Form – Voter Fraud Report Form
If you are not a U.S. citizen, please pray for the truth to be known regarding the avalanche of voter fraud plaguing this nation, I've never seen anything like this before. 
Lastly, President Trump was prevented from communicating with the people when the media prematurely announced Joe Biden was President-elect. I've attached the official letter from the Trump-Pence Campaign via Mark Levin for your reference. This is far from over. Please be ready: if you have time to volunteer, or money to donate to the defense fund, there will be more on that soon. Remember history, the media and Democrats declared victory in the 2000 Presidential Elections, and that lasted 26 days before it was settled by the U.S. Supreme Court. I attach a flashback screenshot of the W. Bush vs. Gore 2000 Election.   
Stay prayerful, stay united, 
P.S. – You may forward this email to trusted Trump voters/supporters ONLY. Thank you. 
© 2020 by Monica Morrill. All Rights Reserved. This E-mail, along with any attachments, is considered confidential and may well be legally privileged. It is only intended for those to whom it is addressed. If you have received it in error, you are on notice of its status. Please notify Monica Morrill immediately by reply e-mail and then delete this message from your system. Please do not copy, print, or use it for any purposes, or disclose its contents to any other person. Forwarding privileges of e-mails by Monica Morrill belong to Monica Morrill only. Thank you for your cooperation. 
Statement from President Trump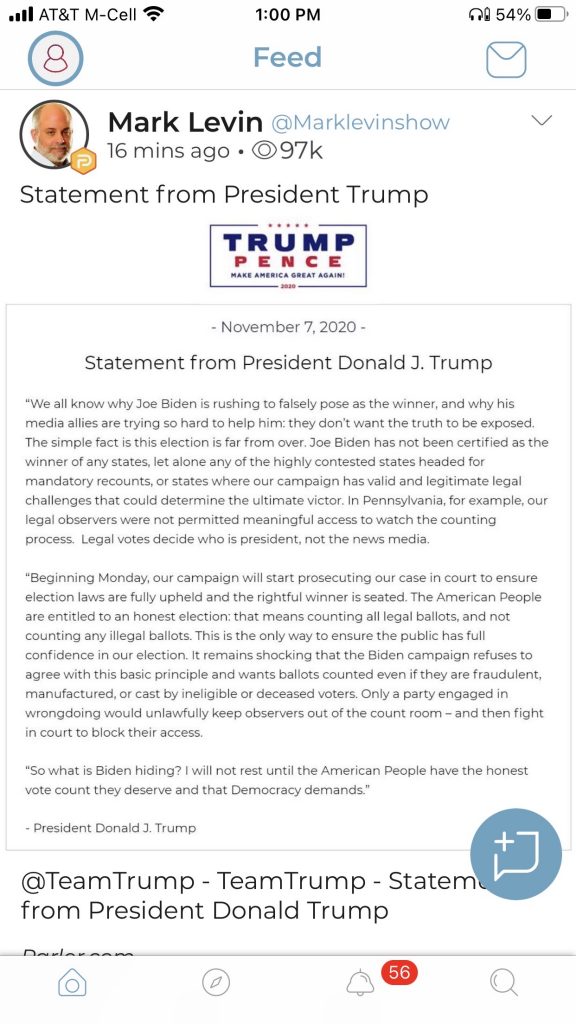 FLASHBACK FROM 2000 WHEN MEDIA DECLARED AL GORE WINNER FOR 26 DAYS!!!